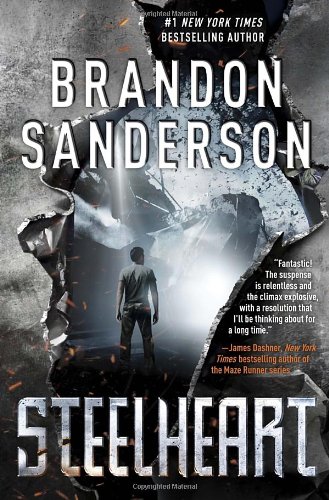 Publisher's Note:
#1 New York Times bestselling author Brandon Sanderson, coauthor of Robert Jordan's Wheel of Time series and creator of the internationally bestselling Mistborn Trilogy, presents Steelheart, the first book in the Reckoners series, an action-packed thrill ride that will leave readers breathless.

Ten years ago, Calamity came. It was a burst in the sky that gave ordinary men and women extraordinary powers. The awed public started calling them Epics.

But Epics are no friend of man. With incredible gifts came the desire to rule. And to rule man you must crush his will.

Nobody fights the Epics . . . nobody but the Reckoners. A shadowy group of ordinary humans, they spend their lives studying Epics, finding their weaknesses, and then assassinating them.

And David wants in. He wants Steelheart—the Epic who is said to be invincible. The Epic who killed David's father. For years, like the Reckoners, David's been studying, and planning—and he has something they need. Not an object, but an experience.

He's seen Steelheart bleed. And he wants revenge.
Steelheart
by Brandon Sanderson
Overall Review:
Author Brandon Sanderson is just having a good year and this time around young adult readers are the lucky recipients. In addition to The Rithmatist (see the Compass Book Ratings' review), we are given Steelheart. These books are totally different, but are successful for all the right reasons: solid fantasy development, snappy dialogue, eclectic and enjoyable characters, and great fantasy concepts.
In Steelheart, don't look for any superheroes to save the day. This is a book about super villians, tyranny, and the fight against that tyranny. Themes revolving around revenge, corruption, power, and ethics are all there. However, this is a roller-coaster, action-jammed, adrenaline-laced book with an eighteen year-old protagonist, David, who has a habit of improvising on the fly. Once the reader starts, they will not want to stop, so just order out for pizza and turn off the phone. With an older male protagonist and movie-style action, this book will especially appeal to male teens. Just read it!
Content Analysis:
Profanity/Language: 9 mild obscenities.
Violence/Gore: Extended battle scene involving superpowers and guns resulting in property destruction and many deaths, no gore; report that a superhero likes to "read" human entrails; extended chase/fight scene involving gunshots and death, non-graphic; brief scene involving shooting resulting in injury and death, non-graphic; a duel resulting in injury by gunshot; characters see videos demonstrating weapon's capability and showing a death; general reports of killings and murders; explosion resulting in property damage; extended fight/chase scene involving explosions, crashes, shooting, bombs, hitting, swords, etc. resulting in death (non-graphic) and injury with the mention of blood; character is treated for severe injuries with mention of blood; extended battle involving shooting, bombs, hitting, superpowers, etc. resulting in injuries, a crushed hand, a crushed skull (some detailed description), and death, with mentions of blood.
Sex/Nudity: Passing reference to a couple making out in the background; a character is attracted to another character; references to a character's cleavage.
Mature Subject Matter:
Death, Tyranny
Alcohol / Drug Use:
None noted
Reviewed By Cindy