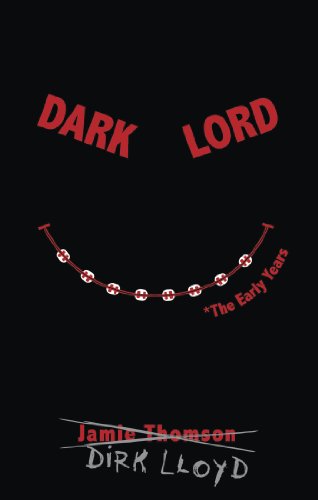 Publisher's Note:
The Dark Lord is confounded when he awakens in the middle of a small town on a planet he's never seen before. What is this strange place, why do they keep calling him Dirk Lloyd, and why is he powerless against these earthlings who insist on finding his parents? Could it be that Dirk Lloyd is really a human incarnation of the Dark Lord who, after a cataclysmic final battle with his arch nemesis, was hurled into the Pit of Uttermost Despair, aka Earth? Or is he just a lost and confused boy? The Dark Lord must regain his rightful place in the universe before his powers of domination and destruction are lost forever, and help comes from a most unlikely source . . . a human friend.

Readers will delight in this wickedly humorous tale as the Dark Lord-theIncarnation of Evil, The World Burner-finds that even he might have a good side.
This book was sent to Compass Book Ratings for review by Bloomsbury Children's Books
Dark Lord: The Early Years
by Jamie Thomson
Overall Review:
What would happen if Sauron, Voldemort, or Darth Vader were to swap bodies with your average wimpy twelve-year-old? Jamie Thomson's Dark Lord: The Early Years is a hilarious answer to just that question. This wasn't the kind of book I would usually find myself drawn to, but I couldn't resist the tongue-in-cheek description and decided to pick this one up anyway! Although I felt like the story often skipped around too much and didn't provide enough development of either characters or setting, it was an enjoyable read and one that had me laughing out loud at several points.
Dark Lord would be an excellent read for fantasy-loving preteens, especially boys. It's worth noting, however, that because the protagonist of the book is the "Dark Lord"—essentially the incarnation of all evil—the humor in the book does make light with a lot of "evil" things, with numerous references to murder/mayhem/torture, as well as things like witchcraft and sacrifices.
Content Analysis:
Profanity/Language: 2 religious exclamations.
Violence/Gore: This book is hard to classify in this area—because it is about a supervillain "dark lord," there are countless references to his past evil misdeeds and the things that he'd like to do to people who frustrate him. Through most of the book there's at least one of these references on every page, often more than that. However, all of these are handled in a fairly humorous and not at all serious manner, and none of them are very graphic or detailed. That said, there are a few violent events that are worth noting on their own: A boy repeatedly dreams about being hunted by a magical beast. A group of preteens is involved in a fire (none are hurt but a building is destroyed). A pair of boys battles a magical creature. A scene implies that several evil villains (who are servants of the protagonist and so somewhat sympathetic characters) are slaughtered by the "good guys." A girl screams with magically-inflicted pain.
Sex/Nudity: A boy makes a very subtle reference to male anatomy.
Mature Subject Matter:
Throughout the book there are references to witches and magic/spells, and at the end there is a scene involving a magical spell being performed that might be troubling for those who are sensitive to themes of witchcraft/magic.
Alcohol / Drug Use:
None noted
Reviewed By CindyB