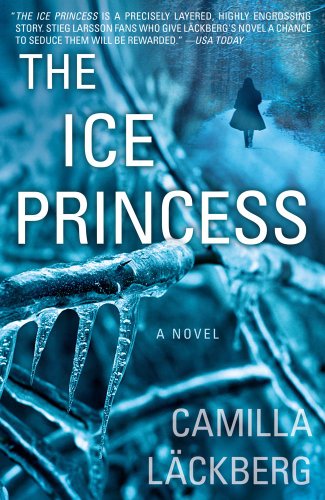 Publisher's Note:
The American debut of internationally bestselling Swedish writer Camilla Lackberg's haunting first novel. Returning to her hometown of Fjallbacka after the funeral of her parents, writer Erica Falck finds a community on the brink of tragedy. The death of her childhood friend, Alex, is just the beginning. Her wrists slashed, her body frozen in an ice-cold bath, it seems that she has taken her own life.

Erica conceives a book about the beautiful but remote Alex, one that will answer questions about their own shared past. While her interest grows into an obsession, local detective Patrik Hedstrom is following his own suspicions about the case. But it is only when they start working together that the truth begins to emerge about a small town with a deeply disturbing past.
This book was sent to Compass Book Ratings for review by Free Press
The Ice Princess
by Camilla Lackberg
Overall Review:
The Ice Princess by Camilla Lackberg is most definitely an "icy" crime novel. Fans of Ann Rule (who is mentioned in the story) will enjoy this author. Although this book has an interesting storyline with creepy twists and turns, it lags getting to the climax. I found myself frustrated rather than engrossed. Avid readers of this genre and fans of crime dramas might also find some of the subplots predictable, as did I. However, this did not detract from the main plot and overall intrigue and appeal of the book. The character development was very well done, and the writing is definitely better than many novels in this genre. Being a Swedish writer, and the book being based in Sweden, made it somewhat difficult to follow as an American reader. Some of the names of characters and places were also hard to decipher not being familiar with the language, but the translation was superb. A little "clean up" to the length and vulgarity of this novel would make it a gripping mystery for many more audiences.
Content Analysis:
The Ice Princess is definitely not a clean read. The novel was intriguing but the lack of morality in so many of the characters detracted from a true "good versus evil" story.
The profanity wasn't overdone like some popular books, and fit certain characters, but was also very offensive. It is littered with profanity mentioning a full array of four letter words.
The main characters are good people but have no problems with fornication.
The book includes murder being a murder mystery, but also highlights domestic abuse, a few sex "scenes", extra-marital affairs, violence toward women, child abuse and rape. I would classify this book in the same realm as a rated "R" movie.
Mature Subject Matter:
***
Alcohol / Drug Use:
***
Reviewed By SqueakyCleanReads