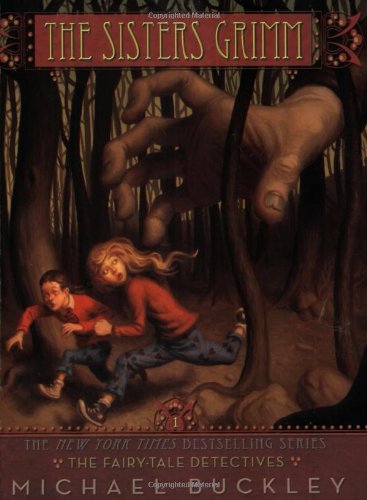 Publisher's Note:
In paperback for the first time, the Sisters Grimm take readers to a world where fairy tales are fact and not everyone is who they seem!


In book one of this bestselling series, sisters Sabrina and Daphne are sent to live with their mysterious grandmother, Relda Grimm. The sisters learn they are descendants of the Brothers Grimm, whose famous book of fairy tales is actually a collection of case files. The girls are the latest in a long line of fairy-tale detectives, and their new hometown is filled with Everafters (as magical folks like to be called)—some good and some very, very bad. When a mysterious Everafter sets a giant loose on the town, it's up to the Sisters Grimm to save the day.
The Sisters Grimm-The Fairy Tale Detectives
by Michael Buckley
Overall Review:
The Sisters Grimm is a delightful story that takes one to a land where characters from fairy tales are real. However, there is a catch--they are confined to one small town. The chaos and conflicts that result from so many main characters and big personalities in one small place make this book a fun, fast-paced read.
The Grimm sisters discover the Grimm family secret as they are reunited with their grandmother, but at the same time they are thrown into this somewhat chaotic world. All the favorite characters are there, but one is kept in suspense as one tries to figure out who is really a good guy and who is really the bad guy. The wonderful thing is that there are nine books in the series to try and figure out if your favorite fairy tale character is good or bad. And while girls as the main characters, I think this book is action-packed enough and includes enough familiar fairy tale characters, that any boy would love the book as well.
Content Analysis:
Profanity/Language: None
Violence/Gore: A few accounts and 4 extended/multi-page scenes of fairy tale-type violence with characters being chased or attacked by things like giants, wolves and pixies; a few accounts of verbal threats and attacks; one scene of people described as thugs attacking two characters.
Sex/Nudity: None
Mature Subject Matter:
Disappearance of parents; discussion of foster parent cruelty; kidnapping of characters.
Alcohol / Drug Use:
One reference to character acting drunk.
Reviewed By Sally