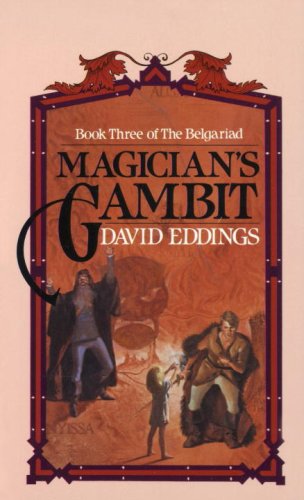 Publisher's Note:
Ce'Nedra, Imperial Princess of Tolnedra, had joined a dangerous mission to recover the stolen Orb that supposedly protected the West from the evil God Torak. And somehow, she found herself feeling quite tender for Garion, the innocent farm boy, who would be forced into the strange tower in the center of all evil to retrieve the Orb by himself.
Magician's Gambit
by David Eddings
Overall Review:
Magician's Gambit is the 3rd book in David Eddings' series, The Belgariad. The tale continues the journey of Begareth and his eclectic troop of amazing characters. Eddings adds to his character list and in doing so leads us to the main driving force of the whole series: The Prophecy. Although prophetic elements are common in a lot of fantasy novels, this prophecy seems more like a character and is quite well thought-out. Tied to the characters in the book, the prophecy propels the story along and keeps you turning the pages. Magician's Gambit is a great middle to a great epic tale.
Content Analysis:
Language/Profanity: 1 mild obscenity; 3 derogatory names.
Violence/Gore: An entire empire is haunted by ghosts that are gory and or nude, examples include evisceration, decapitation, mutilation of men, women or children. It is scary more than disgusting. Several fantasy fights that have some blood and gore; several medieval style combat situations some with blood and gore; mention of human sacrifice describing how it is done but not actually witnessing it.
Sex/Nudity: Implied sexual activity, some imply sexual deviancy; nudity with inuendo; some flirting between teenage characters; chivalrous romance.
Mature Subject Matter:
Arranged marriages, genocide, cannibalism, slavery, assassination, war, human sacrifice, religious extremist.
Alcohol / Drug Use:
Characters drink wine and ale.
Reviewed By Matthew