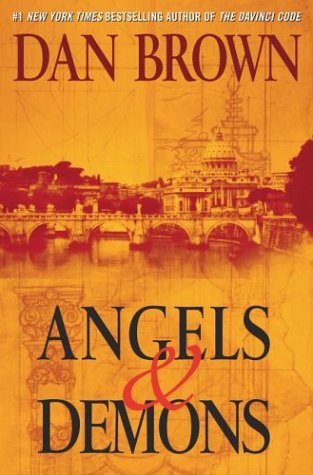 Publisher's Note:
From the #1 New York Times bestselling author of The Da Vinci Code comes the explosive thriller that started it all.

An ancient secret brotherhood. A devastating new weapon of destruction. An unthinkable target. When world-renowned Harvard symbologist Robert Langdon is summoned to his first assignment to a Swiss research facility to analyze a mysterious symbol -- seared into the chest of a murdered physicist -- he discovers evidence of the unimaginable: the resurgence of an ancient secret brotherhood known as the Illuminati...the most powerful underground organization ever to walk the earth. The Illuminati has now surfaced to carry out the final phase of its legendary vendetta against its most hated enemy -- the Catholic Church.

Langdon's worst fears are confirmed on the eve of the Vatican's holy conclave, when a messenger of the Illuminati announces they have hidden an unstoppable time bomb at the very heart of Vatican City. With the countdown under way, Langdon jets to Rome to join forces with Vittoria Vetra, a beautiful and mysterious Italian scientist, to assist the Vatican in a desperate bid for survival.
Embarking on a frantic hunt through sealed crypts, dangerous catacombs, deserted cathedrals, and the most secretive vault on earth, Langdon and Vetra follow a 400-year-old trail of ancient symbols that snakes across Rome toward the long-forgotten Illuminati lair...a clandestine location that contains the only hope for Vatican salvation.

Critics have praised the exhilarating blend of relentless adventure, scholarly intrigue, and cutting wit found in Brown's remarkable thrillers featuring Robert Langdon. An explosive international suspense, Angels & Demons marks this hero's first adventure as it careens from enlightening epiphanies to dark truths as the battle between science and religion turns to war.
Angels and Demons
by Dan Brown
Overall Review:
Angels & Demons is Dan Brown's first book containing Robert Langdon, the Harvard symbologist. Langdon seems to find himself in a high-energy, extremely dangerous, historically based adventure that takes the reader through the ancient city of Rome and more specifically Vatican City. Somewhat convoluted, the story is fun to read because of its fast -paced action mingled with ancient puzzles. This gives the reader a hint of culture and learning. Robert Langdon is also a great hero and seems to have the allure similar to that of Indiana Jones.
Some find Brown's theories about history and especially religion controversial. This may be off-putting to certain groups of people, but taking the story for what it is, namely an action adventure, may curtail that reaction.
History, science, and religion mix together in this up-tempo adventure to make it an entertaining book to read, but I wouldn't use it as a historical reference book. Unless, of course, you are discussing fictional heroes and their adventures.
Content Analysis:
Language/Profanity: 8 religious exclamations; 6 mild obscenities; 3 religious profanities; 6 derogatory names; 2 scatological words.
Violence/Gore: Several gory murders that involve branding, torture, gruesome death, one is extended and all are descriptive; two murders involving fire arms; hand to hand fight that ends in death of character who falls to death; historical references to murders, hangings, and burning at the stake, non-detailed; few creepy or scaring situations - trapped in an overturned sarcophagus with remains of body, descending and exploring into ancient tombs and catacombs.
Sex/Nudity: Mention of prostitution that involved some sexual deviancy, non-descriptive; one encounter involving consenting adults with nudity, non-descriptive.
Mature Subject Matter:
Torture, murder, war, persecution, prostitution.
Alcohol / Drug Use:
Adults drink wine.
Reviewed By Matthew