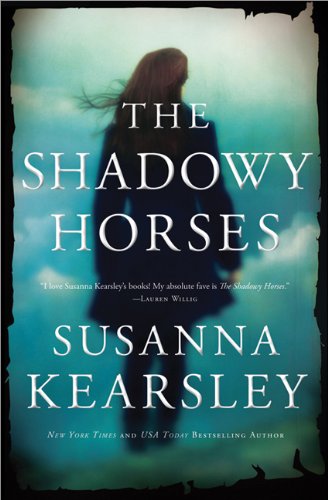 Publisher's Note:
THE INVINCIBLE NINTH ROMAN LEGION MARCHES FROM YORK TO FIGHT THE NORTHERN TRIBES. AND THEN VANISHES FROM THE PAGES OF HISTORY.
Archaeologist Verity Grey has been drawn to the dark legends of the Scottish Borderlands in search of the truth buried in a rocky field by the sea.
Her eccentric boss has spent his whole life searching for the resting place of the lost Ninth Roman Legion and is convinced he's finally found it—not because of any scientific evidence, but because a local boy has "seen" a Roman soldier walking in the fields, a ghostly sentinel who guards the bodies of his long-dead comrades.
Here on the windswept shores, Verity may find the answer to one of the great unsolved mysteries of our time. Or she may uncover secrets someone buried for a reason.
The Shadowy Horses
by Susanna Kearsley
Overall Review:
The Shadowy Horses by Susanna Kearsley is hard to categorize. The author's says on her Amazon page, "I write modern gothic novels that blend historical adventure and modern-day suspense with romance and a touch of something spooky, so they don't fit neatly into any category." Well-put and true. However, one category this novel fit into was escapism fiction. The Shadowy Horses was never too intense, but rather an easy and pleasant read with generic, but likeable characters. Resolution of plot points took a backseat to atmosphere and some romance. The one area the author excelled in was the setting (Scotland!), which was exquisitely rendered.
Ms. Kearsley, a New York Times Best Selling author, has written several books. While The Shadowy Horses isn't a book that is going to change a reader's life, it was good enough to tempt me to sample some of her other popular books. We all need an escapist book every now and then for the airplane, a vacation, or the beach and Ms. Kearsley may just well be the author to fill that ticket.
Content Analysis:
Profanity/Language: 44 religious exclamations; 33 mild obscenities; 6 derogatory names; 1 scatalogical word; 2 anatomical terms.
Note: British use of the word 'bloody' not tallied.
Violence/Gore: Non-detailed report/story of a lady being murdered long ago; character knocked unconscious; report of a fight; report of a person being hit with an object; accident involving destruction of property.
Sex/Nudity: Characters kiss; character makes unwanted advances; sexual reference to "bonking", sex-appeal, "rather be in a bed", and such; report of an extra-marital affair; some innuendo and flirting; adult characters have sex--scene ends before and then skips to the next morning with no details.
Mature Subject Matter:
Smuggling, Death, Psychic abilities, Paranormal/Ghosts
Alcohol / Drug Use:
Frequent social drinking by adults. Some characters become drunk. Adults smoke cigarettes.
Reviewed By Cindy