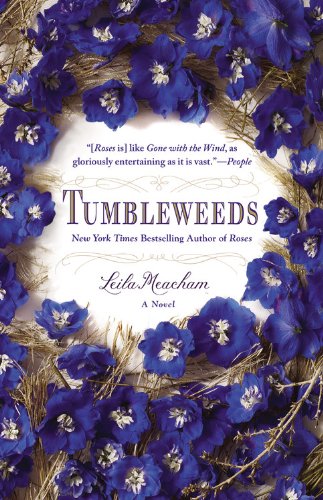 Publisher's Note:
Recently orphaned, eleven-year-old Cathy Benson feels she has been dropped into a cultural and intellectual wasteland when she is forced to move from her academically privileged life in California to the small town of Kersey in the Texas Panhandle where the sport of football reigns supreme. She is quickly taken under the unlikely wings of up-and-coming gridiron stars and classmates John Caldwell and Trey Don Hall, orphans like herself, with whom she forms a friendship and eventual love triangle that will determine the course of the rest of their lives. Taking the three friends through their growing up years until their high school graduations when several tragic events uproot and break them apart, the novel expands to follow their careers and futures until they reunite in Kersey at forty years of age. Told with all of Meacham's signature drama, unforgettable characters, and plot twists, readers will be turning the pages, desperate to learn how it all plays out.
Tumbleweeds: A Novel
by Leila Meacham
Overall Review:
In this dazzling fiction novel that doubles as a light mystery, we are introduced to a young girl named Cathy who is newly orphaned and now living in a new town with her grandmother and to two boys who are instructed to help her navigate her new school and town. One of the young boys feels like this might ruin his friendship with his best friend, who is all he has ever needed, but the other boy thinks having a pretty girl to take under his wing might be a fun experience.
Fast forward a handful of years and the orphan girl and her knight in shining armor (who just so happens to be a star football player) are falling in love in the midst of the struggles and angst that high schoolers often face. When a crime is committed and covered up and the guilty party is let off the hook with no more than a guilty conscience, no one is aware of the impact this deed will have on everyone in the small Texan community in the years to come.
Throughout this story we are thrown forward and pulled backward in time, until all the pieces of the story fit together and come to the inevitable conclusion. This book is perfect for someone who likes a fast-paced and well written story that isn't overly romantic. Even readers who like the mystery genre will feel satisfied with this book that has a slight crime novel feel to it.
Content Analysis:
Profanity/Language: 3 religious exclamations; 6 mild obscenities; 2 F-word derivatives
Violence/Gore: Two boys attempt to abuse a farm pet; a character gets in a physical fight with another character, and one of them dies due to strangulation.
Sex/Nudity: Two teens have sex; teens exchange kisses; adults are involved romantically; an adult couple has sex several times, with some explicit content; a couple commits adultery; a girl and boy are attracted to each other at a young age; women are identified as sex objects.
Mature Subject Matter:
Cancer; murder; teen pregnancy
Alcohol / Drug Use:
Adults drink; adults smoke.
Reviewed By Lydia