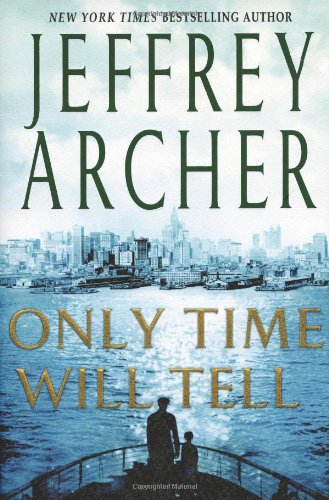 Publisher's Note:
From the internationally bestselling author of Kane and Abel and A Prisoner of Birth comes Only Time Will Tell, the first in an ambitious new series that tells the story of one family across generations, across oceans, from heartbreak to triumph.

The epic tale of Harry Clifton's life begins in 1920, with the words "I was told that my father was killed in the war." A dock worker in Bristol, Harry never knew his father, but he learns about life on the docks from his uncle, who expects Harry to join him at the shipyard once he's left school. But then an unexpected gift wins him a scholarship to an exclusive boys' school, and his life will never be the same again.

As he enters into adulthood, Harry finally learns how his father really died, but the awful truth only leads him to question, was he even his father? Is he the son of Arthur Clifton, a stevedore who spent his whole life on the docks, or the firstborn son of a scion of West Country society, whose family owns a shipping line?

This introductory novel in Archer's ambitious series The Clifton Chronicles includes a cast of colorful characters and takes us from the ravages of the Great War to the outbreak of the Second World War, when Harry must decide whether to take up a place at Oxford or join the navy and go to war with Hitler's Germany. From the docks of working-class England to the bustling streets of 1940 New York City, Only Time Will Tell takes readers on a journey through to future volumes, which will bring to life one hundred years of recent history to reveal a family story that neither the reader nor Harry Clifton himself could ever have imagined.
Only Time Will Tell
by Jeffrey Archer
Overall Review:
Only Time Will Tell is the first novel in the Clifton Chronicles. Penned by best-selling English author Jeffrey Archer, the book follows young Harry Clifton as he grows from boy to man. Set in pre-World War II England, Time frequently switches narrators, allowing each character to reveal a little more about the mystery surrounding Harry's father.
Archer is a good storyteller and his writing is fast-paced and entertaining. Harry is a likeable and morally upright protagonist and I couldn't help rooting for his success. Unfortunately I felt most of the other characters were formulaic, unrealistic, and lacking in dimension. Though the book has quite the cliffhanger so readers will want more, my journey with Harry Clifton ends here.
Content Analysis:
Profanity/Language: 5 religious exclamations; 17 mild obscenities; 5 derogatory names; 1 anatomical term.
Violence/Gore: Several reports of violence involving war and brawls. A character is beaten and a male character punches and kicks a woman. There are several non-detailed scenes of violent death involving death by suffocation and death by torpedo.
Sex/Nudity: A few scenes of kissing and romance; several sexual references are made; several incidents of implied or reported sexual activity; sexual activity without explicit detail occurs three times between adults and twice between minors.
Mature Subject Matter:
Bullying, incest, adultery, child born out of wedlock, prostitution, war, death
Alcohol / Drug Use:
Characters frequently drink and smoke.
Reviewed By Rachel