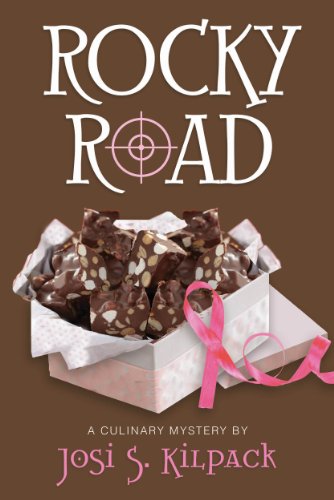 Publisher's Note:
THE ST. GEORGE SPECTRUM Dr. Trenton Hendricks was last seen Friday, April 8, when he set out alone on a backpacking trip. Hendricks's Jeep Grand Cherokee was located Tuesday at the Chuckwalla Trailhead, but after six days and thousands of man-hours, the official search has been called off. He is presumed to be deceased. It was supposed to be a girls' weekend in scenic St. George, Utah, that would include shopping, trying out the local cuisine, and participating in a breast cancer fund-raiser. The fact that one of the organizers of the fund-raising event, a local doctor, had disappeared two months before was not supposed to be Sadie's problem. When Sadie learns that her friend Caro and Caro's cousin, Tess, have started a grassroots investigation into Dr. Hendricks's disappearance, Sadie graciously refused to be a part of it. With her wedding to plan and her most recent case still fresh in her mind, Sadie is determined to leave this case to the police--until she meets the ex-wife of the missing man. How could she not ask a few questions . . . that lead to more questions . . . that lead to a small town and even more questions! When the local police ask her to be their eyes and ears, Sadie can't help but jump in with both feet. Before she knows it, she is on the rocky road of another investigation, following a convoluted trail of good intentions, hidden motivations, and philanthropy turned big business.
This book was sent to Compass Book Ratings for review by Shadow Mountain
Rocky Road
by Josi S. Kilpack
Overall Review:
Rocky Road is an example of why the Sadie Hoffmiller Culinary Mystery series by Josi S. Kilpack keeps me coming back for more. First, let it be noted that the main character Sadie Hoffmiller is not the annoying person she is in other books. Second, some characters from previous books make a reappearance and others take a very far back seat. Third, Kilpack introduces new and interesting characters one hopes to see in future offerings.
This book differs from many in the series, because it does not base its mysteries on a dead body discovered by Hoffmiller. No doubt those keeping up with Sadie will wonder if the book could be as interesting and the answer is a resounding, "Yes!" The variety of crimes with which Sadie finds herself involved keeps the reader ready for the next book.
This is a fun and easy read with plenty of intrigue and mysterious happenings to keep readers curious and fascinated. If that doesn't get readers excited, than perhaps drooling over the yummy recipes will. The only disappointment was not having any scorpion encounters added to the mix, because St. George, Utah always conjures up images of scorpions and other desert creatures. Maybe next time.
Content Analysis:
Profanity/Language: None
Violence/Gore: Character contemplates suicide; people are threatened with a gun; characters attack one another with fists and legs; character hits head and blood is mentioned.
Sex/Nudity: The words abstinence and pornography are mentioned briefly; married characters embrace.
Mature Subject Matter:
Terminal illness, divorce, suicide, death of family members, fraud.
Alcohol / Drug Use:
A woman is reported to have drunk three glasses of wine; characters consume an unspecified alcoholic beverage.
Reviewed By Susan