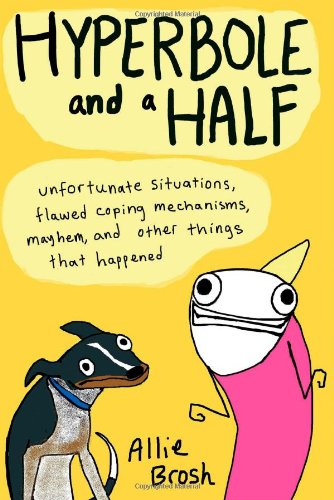 Publisher's Note:
FROM THE PUBLISHER:
Every time Allie Brosh posts something new on her hugely popular blog Hyperbole and a Half the internet rejoices.

Touching, absurd, and darkly comic, Allie Brosh's highly anticipated book Hyperbole and a Half showcases her unique voice, leaping wit, and her ability to capture complex emotions with deceptively simple illustrations.

This full-color, beautifully illustrated edition features more than fifty percent new content, with ten never-before-seen essays and one wholly revised and expanded piece as well as classics from the website like, "The God of Cake," "Dogs Don't Understand Basic Concepts Like Moving," and her astonishing, "Adventures in Depression," and "Depression Part Two," which have been hailed as some of the most insightful meditations on the disease ever written.

Brosh's debut marks the launch of a major new American humorist who will surely make even the biggest scrooge or snob laugh. We dare you not to.

FROM THE AUTHOR:
This is a book I wrote. Because I wrote it, I had to figure out what to put on the back cover to explain what it is. I tried to write a long, third-person summary that would imply how great the book is and also sound vaguely authoritative—like maybe someone who isn't me wrote it—but I soon discovered that I'm not sneaky enough to pull it off convincingly. So I decided to just make a list of things that are in the book:

Pictures
Words
Stories about things that happened to me
Stories about things that happened to other people because of me
Eight billion dollars*
Stories about dogs
The secret to eternal happiness*

*These are lies. Perhaps I have underestimated my sneakiness!
Hyperbole and a Half: Unfortunate Situations, Flawed Coping Mechanisms, Mayhem, and Other Things That Happened
by Allie Brosh
Overall Review:
Hyperbole and a Half began as a blog, and accrued thousands of readers and followers over the years. Now the author of this popular blog has published a book, and just in time for the holidays.
With a slightly morbid sense of humor, this book walks us through the hilarious life of Allie and introduces several family members in the process. The author is obviously not afraid to make fun of her antics, and that makes this book all the more fun to read. For those familiar with her blog, you know that her blog posts often included funny drawings and cartoons. Allie does not disappoint--throughout the whole book there are simple line drawings of a figure who is meant to be the author, and her dogs or family members.
I think the part of this book that really spoke to me was the way Allie is so transparent about her depression and what she went through during that time in her life. She really hits the mark on all that depression entails, yet communicates it in a humorous way. For anyone looking for a light and funny read, something that doesn't take a lot of concentration, I would definitely recommend you pick up this book.
Content Analysis:
Language/Profanity: 3 religious exclamations; 13 mild obscenities; 1 derogatory name; 3 anatomical terms; 16 F-word derivatives
Violence/Gore: The author describes feelings of hopelessness and suicidal thoughts.
Sex/Nudity: None

Mature Subject Matter:
Depression; dealing with feelings
Alcohol / Drug Use:
None noted
Reviewed By Lydia