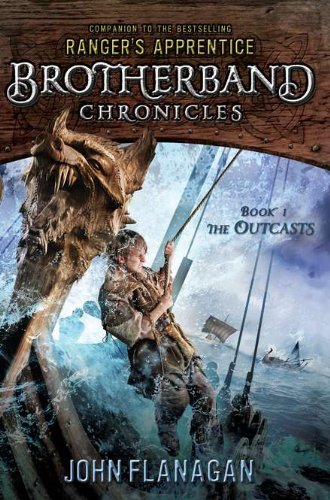 Publisher's Note:
From the author of the global phenomenon Ranger's Apprentice!

They are outcasts. Hal, Stig, and the others - they are the boys the others want no part of. Skandians, as any reader of Ranger's Apprentice could tell you, are known for their size and strength. Not these boys. Yet that doesn't mean they don't have skills. And courage - which they will need every ounce of to do battle at sea against the other bands, the Wolves and the Sharks, in the ultimate race. The icy waters make for a treacherous playing field . . . especially when not everyone thinks of it as playing. John Flanagan, author of the international phenomenon Ranger's Apprentice, creates a new cast of characters to populate his world of Skandians and Araluens, a world millions of young readers around the world have come to know and admire. Full of seafaring adventures and epic battles, Book 1 of The Brotherband Chronicles is sure to thrill readers of Ranger's Apprentice while enticing a whole new generation just now discovering the books.

Perfect for fans of J.R.R. Tolkien's Lord of the Rings, T.H. White's The Sword in the Stone, Christopher Paolini's Eragon series, and George R. R. Martin's Game of Thrones/A Song of Ice and Fire series.
The Brotherband Chronicles: The Outcasts
by John Flanagan
Overall Review:
Author John Flanagan is back with another series titled Brotherband Chronicles, set in his made up world of Skandia. This is an exciting, action-packed adventure that follows Hal, as he comes of age by going through what is called Brotherband training. The story follows his progress from being the town's outcast to learning to use his natural leadership ability to form a Brotherband from all the other 16 year old boys that are considered outcasts as well. The growth in these boys as they not only learn to work together, but learn to use their individual talents to the benefit of the group is heartwarming. This book is a great example of how to use what you've been given and not let life get you down, even though it's not easy. It also has some great hidden messages of learning from your mistakes and being accountable for things when they go wrong. The Outcasts is the first in a series of three books, but it also builds on the other series written by Flanagan, The Ranger's Apprentice. It's not necessary to have read the other series, as The Brotherband Chronicles stands on it's own, but the previous knowledge of the land of Skandia and some of the minor characters would add to the story for most readers. This book is action-packed and is certainly a very exciting read. Both of my sons have loved it and could not put it down. Just make sure you have the other two books handy, as it leaves you hanging in the end!
Content Analysis:
Profanity/Language: None
Violence/Gore: One account of the loss of a limb; several accounts of verbal threats; a few (3) extended scenes of violence of the bullying type among teenagers with intent to really hurt the other person, resulting in broken bones and severe injuries; a few (2) extended scenes of battle type violence involving swords, weapons, and with characters' throats being slit, resulting in death of characters.
Sex/Nudity: One kiss between teenagers; one description of a naked statue.
Mature Subject Matter:
Death of family member, bullying
Alcohol / Drug Use:
Several accounts of a drunk man and his behavior.
Reviewed By Sally