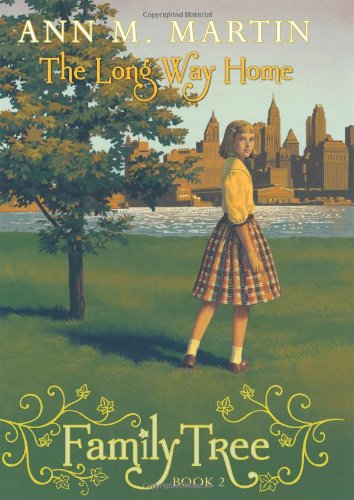 Publisher's Note:
Four girls. Four generations. One family.
The second entry in the beautiful new series from Ann M. Martin.

Dana is Abby's daughter -- but she's always been much closer to her father, Zander. He's a celebrated New York author who encourages Dana's artistic talents . . . even if he sometimes drinks too much. Dana is on his side in any argument, regardless of whether he's wrong. And then her father dies.

After years of moving, often with her mother and three siblings, Dana is angry at Abby, and wants nothing more than to leave her family and get back to New York City. She moves in with her young, bohemian aunt Adele, determined to study art, attend school, achieve independence, and avoid all the mistakes her mother made. But can she leave her family and Maine behind?
This book was sent to Compass Book Ratings for review by Scholastic
The Long Way Home (Family Tree #2)
by Ann M. Martin
Overall Review:
The Long Way Home by Ann Martin is the second addition in the Family Tree series. The premise of the series follows four girls in four generations within one family. The first book Better to Wish centered on Abby Nichols and the second book is built around Dana, her daughter.
The setting change for the The Long Way Home is twenty years later with Zander and Abby 's family (twins Dana and Julia; son Peter) living comfortably in New York instead of financially struggling in a small town in Maine. This setting change is one of the many contrasts between the first and second book that helps draw the reader in. It is the first indication that this will be a very different story than the first.
As the plotline builds, the reader realizes that one of the main themes is built around growing up and becoming your own person. Dana longs to be seen as different from her twin and Julia yearns for Dana to remain close to her. Throughout the book Dana is determined to be independent of her family and yet is repeatedly drawn back to them. This contrast brings emotional tension which makes the book real. Another theme is the acceptance of mentally challenged children. Both books deal with this subject but in very different ways. A third theme is the tragic effect alcohol can have on a family. While the first book was appealing, the serious issues in this second book made this reader much more involved and held my interest to the very end of the book.
Ms. Martin consistently builds ties back to the first book and this writing device makes the transition smooth. Orrin Umhay appears again as well as Abby's father. Another technique she uses is to weave in historical events taking place at the time, i.e. Rosa Parks and President Kennedy's assassination.
I think girls will like this book because the main characters reflect how girls think about themselves. Parents will appreciate the serious issues and the consequences that are the real world. Both parents and young readers will look forward to what the third book in the series brings.
Content Analysis:
Profanithy/Language: None
Violence/Gore: A child watches an accidental death of a family member. (No blood or gore; no extended scenes.)
Sex/Nudity: None
Mature Subject Matter:
Family/Personal Crisis: mental disorders, addictions, unemployment, death of a family member.
Alcohol / Drug Use:
One character is an alcoholic.
Reviewed By Marilyn