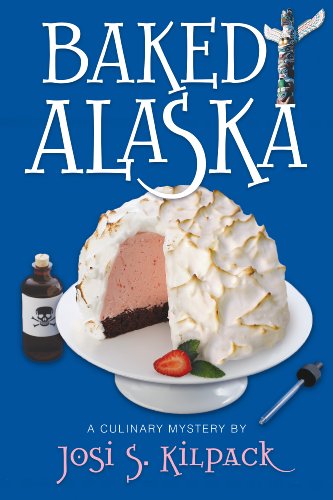 Publisher's Note:
An Alaskan cruise is the setting for amateur detective Sadie Hoffmillers latest adventure. Sadie plans to spend time relaxing with her two grown children, Breanna and Shawn, and her boyfriend, Pete, while enjoying the luxury and cuisine of an elegant cruise ship and helping to plan her daughters upcoming wedding. But even as the crew prepares to leave port, Sadie has suspicions about the voyage ahead and the relationship between her normally easygoing son and a mysterious female passenger he obviously knows but refuses to discuss. When the woman is discovered unconscious during the second night at sea, Sadies apprehension escalates. Over the last few years, Sadie has developed an extreme dislike for secrets and it would seem her son is keeping one from her. *Includes eight new mouthwatering recipes, tested and approved by the official bakers of Sadies Virtual Test Kitchen. *Josis culinary mysteries have become favorites with members of Goodreads and other book networking sites. *Readers guide available online.
This book was sent to Compass Book Ratings for review by Shadow Mountain
Baked Alaska
by Josi S. Kilpack
Overall Review:
Unfortunately, reviewers are not allowed to give a book multiple ratings. If it could happen, there would be four stars for readability and two and a half stars for annoying characters awarded to Baked Alaska by Josi S. Kilpack. This is the ninth book in the Sadie Hoffmiller Culinary Mystery series.
Readers familiar with the series will find this book follows in the same vein as the first six books of the series. Sadie Hoffmiller, the main character, is a woman who has to stick her nose into everything, especially things that are not her business. Although it seems Kilpack is trying to make her endearing, Sadie is really just irritating. In fact, almost all of the other characters in the story are more appealing.
If one can overlook the protagonist, there is a great deal positive to be said of Kilpack's ability to produce interesting mysteries. In this book, she has several issues going on at the same time and only near the end do they all resolve themselves. Kilpack has come up with very intriguing plots and a spectacular location to go along with it.
It would be interesting to see Kilpack phase Sadie Hoffmiller out of the limelight and put in Hoffmiller's son, Shawn, instead. Overall, the pacing of the story kept one interested and curious. Kilpack did a nice job of making sure readers enjoyed the secondary characters. Readers can also look forward to seeing these characters in the tenth book in the series.
Content Analysis:
Profanity/Language: None
Violence/Gore: People kick and punch one another; it is speculated that characters were murdered; character attacks another with an object.
Sex/Nudity: Non-married and married character embrace and kiss; character refers in jest to sex-crazed people.
Mature Subject Matter:
Adoption, terminal illness, death of parent, adultery, murder.
Alcohol / Drug Use:
Character reported to have consumed wine. Person is an alcoholic.
Reviewed By Susan