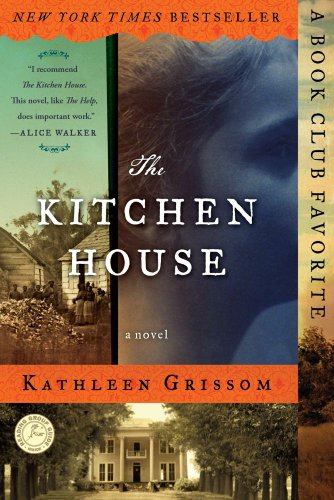 Publisher's Note:
When a white servant girl violates the order of plantation society, she unleashes a tragedy that exposes the worst and best in the people she has come to call her family.
Orphaned while onboard ship from Ireland, seven-year-old Lavinia arrives on the steps of a tobacco plantation where she is to live and work with the slaves of the kitchen house. Under the care of Belle, the master's illegitimate daughter, Lavinia becomes deeply bonded to her adopted family, though she is set apart from them by her white skin.
Eventually, Lavinia is accepted into the world of the big house, where the master is absent and the mistress battles opium addiction. Lavinia finds herself perilously straddling two very different worlds. When she is forced to make a choice, loyalties are brought into question, dangerous truths are laid bare, and lives are put at risk.
The Kitchen House is a tragic story of page-turning suspense, exploring the meaning of family, where love and loyalty prevail.
The Kitchen House
by Kathleen Grissom
Overall Review:
Containing several lifetimes' worth of sorrow and tragedy, The Kitchen House by Kathleen Grissom will compel the reader to continue to its ending; it is virtually impossible to deny completing this story, even at the times it is heart-wrenching. Set in Colonial Virginia in the late 1700's and early 1800's, this story isn't a simple story about slavery. Instead it is a complex look at relationships, decisions, choices, love, loyalty, family, and yes, sorrows. The story is told through chapters alternating between the voice of Belle, the illegitimate daughter of the master, and Lavinia, an orphaned, indentured, white girl.
Poignant, intense, compelling, riveting--pick an adjective, because they all applied to this book. This was a book I desperately wished I had read with a book club because I longed to talk about the characters, their choices, and their pain. Outstanding historical fiction! However, be prepared for the heartbreak.
Content Analysis:
Profanity/Language: 5 religious exclamations; 1 mild obscenities; 14 derogatory names.
Violence/Gore: Hanging, no details; report of deaths of family members by illness and in childbirth; slaughter of chicken briefly described; report of a slave shot by owner; child dies in accident, non-detailed; report of a slave severely injured and beat by mob with ear cut off, a few details; slaughter of a pig with some details and mention of blood; a character is killed and the body disposed of, specifics not detailed but reader has enough clues to deduce disturbing details of the act; slaves show signs of violence such as bruises, scars, injuries, etc.; child hits another child; adult kicks a child and it is strongly implied that other previous violent and possibly disturbing actions have been taken upon the child; a character is beat to death, non-detailed; various non-detailed reports of violent death; a character is raped, non-detailed scene; several reports of violence by overseer against slaves; property destruction and possible human death; report of a death in a suspicious accident; husband beats and abuses wife on different occasions, mostly non-detailed; character bites another character; character is shot, brief detail.
Sex/Nudity: Innuendo and implied master/slave sexual relationships; several instances of innuendo; report of a fiance "touching inappropriately" against character's will, non-detailed; young girls change baby's diapers and note difference between girls and boys; report of mentally ill woman kissing and inappropriately touch grown son, non-detailed; married couple consummate their marriage, no details; slave is being sexually used/raped against her will; married woman kisses a man that is not her husband; implied on-going sexual relationship between a woman and a married man; character is raped, non-detailed scene.
Mature Subject Matter:
Slavery; Rape; Spousal Abuse; Physical and Sexual Abuse; Drug Addiction; Death of family members; Infidelity; Death
Alcohol / Drug Use:
Two characters are opium addicts; opium used for medicinal purposes; several characters drink wine and other alcoholic beverages; different characters are reported to be drunk on many occasions and one adult is clearly an alcoholic; adults drink socially; a 12-year old drinks alcohol.
Reviewed By Cindy