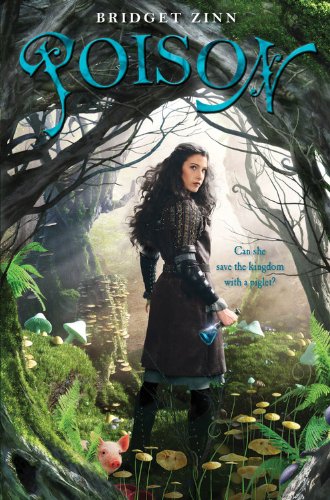 Publisher's Note:
Sixteen-year-old Kyra, a highly-skilled potions master, is the only one who knows her kingdom is on the verge of destruction—which means she's the only one who can save it. Faced with no other choice, Kyra decides to do what she does best: poison the kingdom's future ruler, who also happens to be her former best friend.
Poison
by Bridget Zinn
Overall Review:
Poison by Bridget Zinn follows sixteen-year-old Kyra, a potions master on the run after a failed assassination attempt. A resourceful and independent young lady, Kyra is not only skilled in magical potions, but she also has a few ninja-like skills. The characters are light and enjoyable; there is a pig who is quite adorable. Although this story has a fairy tale feel, the dialogue is quite modern, which may or may not agree with individual reading tastes.
This gentle young adult fantasy would probably be especially enjoyed by pre-teens and young teens that are fans of fairy tales. Unlike most young adult fiction these days, this is a stand-alone novel. Poison is a fun, quick, light read.
Content Analysis:
Profanity/Language: 5 religious exclamations; 5 mild obscenities.
Violence/Gore: Characters put to sleep with potion; character struggles with fantasy creatures by hitting, kicking, knocking unconscious; character's blood sample taken against will; verbal threats; threat to eat a character; character has a vision in which blood is mentioned; an animal is injured by another animal; darts with sleeping potion are used against characters; scene of confrontation with scuffling, kicks, magical spells; battle scene with weapons and potions (non-detailed); report of assassination attempt.
Sex/Nudity: Character wears lacy underthings and is seen by a member of the opposite sex; characters kiss upon different occasions; character tells dirty jokes (this is stated...the jokes are not described); a character wakes naked from a magical spell (non-sexual).
Mature Subject Matter:
Assassination
Alcohol / Drug Use:
Poisons are used in a fantasy setting to do magical things.
Reviewed By Cindy