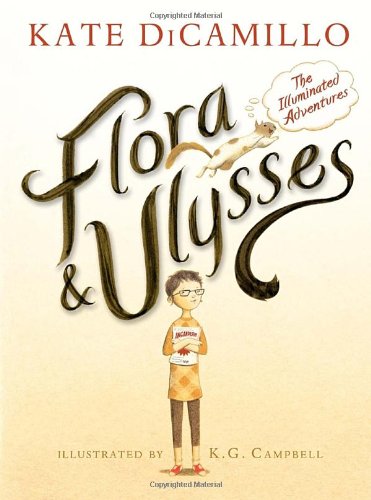 Publisher's Note:
Holy unanticipated occurrences! A cynic meets an unlikely superhero in a genre-breaking new novel by master storyteller Kate DiCamillo.

It begins, as the best superhero stories do, with a tragic accident that has unexpected consequences. The squirrel never saw the vacuum cleaner coming, but self-described cynic Flora Belle Buckman, who has read every issue of the comic book Terrible Things Can Happen to You!, is the just the right person to step in and save him. What neither can predict is that Ulysses (the squirrel) has been born anew, with powers of strength, flight, and misspelled poetry — and that Flora will be changed too, as she discovers the possibility of hope and the promise of a capacious heart. From #1 New York Times best-selling author Kate DiCamillo comes a laugh-out-loud story filled with eccentric, endearing characters and featuring an exciting new format — a novel interspersed with comic-style graphic sequences and full-page illustrations, all rendered in black-and-white by up-and-coming artist K. G. Campbell.
Flora & Ulysses: The Illuminated Adventures
by Kate DiCamillo
Overall Review:
Kate DiCamillo always writes the most charming books imaginable, and this one is no different. I will admit that even though the cover is so cute, and the synopsis sounds interesting, I hesitated to read this book once I realized it involved a talking squirrel. I kind of thought I had left talking animals behind back when I was 13, but perhaps not, as I found this story to be all the more enjoyable because of it.
Flora is a cute little girl who spends lots of time reading comic books and being cynical. Ulysses is your usual annoying squirrel that inhabits your yard, and eats the acorns that fall from your tree. But one small mistake made by a neighbor changes all of that in an instant. And thus: the squirrel acquires a name and a friend, and Flora is taken on a grand adventure she never would have imagined in her wildest dreams.
This book is a wonderful story for young readers who are looking for a little more substance than the easier "readers" they may be used to. It might also interest parents who are looking for a little bit of magic in the everyday, or a break from their typical fiction tome.
Content Analysis:
Language/Profanity: None

Violence/Gore: A squirrel is run over and partially sucked up by a vacuum; a man threatens to kill an animal by putting it in a garbage bag and hitting it over the head with a shovel.
Sex/Nudity: None

Mature Subject Matter:
None
Alcohol / Drug Use:
A mother smokes frequently, though she is trying to give it up.
Reviewed By Lydia