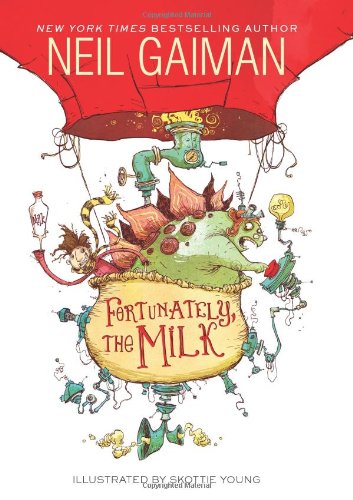 Publisher's Note:
"I bought the milk," said my father. "I walked out of the corner shop, and heard a noise like this: T h u m m t h u m m. I looked up and saw a huge silver disc hovering in the air above Marshall Road."
"Hullo," I said to myself. "That's not something you see every day. And then something odd happened."
Find out just how odd things get in this hilarious story of time travel and breakfast cereal, expertly told by Newbery Medalist and bestselling author Neil Gaiman and illustrated by Skottie Young.
Fortunately, the Milk
by Neil Gaiman
Overall Review:
Neil Gaiman seems to be a very comfortable author. Whether he is writing books for children, teens, or adults, his books always have something others don't offer: a spectacular imagination. His books for younger readers would be great read-alouds for parents and children as they always have a fairytale quality to them...close enough to reality to be believeable, but with enough mystery and magic thrown in that they are obviously fictional.
Fortunately, the Milk has a fun cover illustration that could be appealing to both girls and boys, and once the cover is cracked open, you probably won't be able to stop reading until the story is finished. Even then, your mind might return to the pages of this book to ponder what other journeys the absentminded father portrayed in its pages might encounter were his family to run out of bread, or butter.
This book is filled with enjoyable fonts and wonderful illustrations that will capture your attention from the get-go. I can also see reluctant readers being more apt to pick up this title, since it has such a colorful and jaunty dust jacket. Whether young or old, this story will leave you wondering what really happened on that day when mum went to a conference, and father set out to fetch the milk.
Content Analysis:
Profanity/Language: None
Violence/Gore: A band of pirates threatens to make a man walk the plank
Sex/Nudity: None
Mature Subject Matter:
None noted
Alcohol / Drug Use:
None noted
Reviewed By Lydia