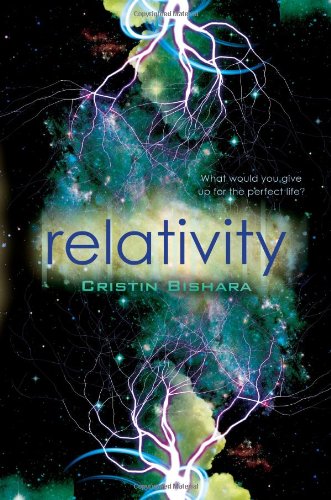 Publisher's Note:
If Ruby Wright could have her way, her dad would never have met and married her stepmother Willow, her best friend George would be more than a friend, and her mom would still be alive. Ruby knows wishes can't come true; some things just can't be undone. Then she discovers a tree in the middle of an Ohio cornfield with a wormhole to nine alternative realities. Suddenly, Ruby can access completely different realities, each containing variations of her life—if things had gone differently at key moments. The windshield wiper missing her mother's throat…her big brother surviving his ill-fated birth…her father never having met Willow. Her ideal world—one with everything and everyone she wants most—could be within reach. But is there such a thing as a perfect world? What is Ruby willing to give up to find out?
This book was sent to Compass Book Ratings for review by Bloomsbury Children's Books
Relativity
by Cristin Bishara
Overall Review:
Ruby Wright is a sarcastic and funny teenager who is frustrated as she is forced to adjust to a new life. Her father recently re-married and moved them across the country, and if it isn't bad enough that she had to leave her crush behind, she's stuck in a tiny town with nothing she's used to and her new new step-sister appears to be a bit like the Wicked Witch of the East. Life starts to get interesting when she pays a visit to a giant tree in the corn field behind her house and discovers it will show her what her life might've been like. Relativity is a light, yet thoughtful story. If you've ever thought your life could be better with just one little alteration, you need to read this book. I was surprised to learn that this was Cristin Bishara's first novel--she did an incredible job. I seriously could not put this book down! There was plenty of laughing, and maybe a little crying. I couldn't wait to see what each alternative reality would bring. If you're looking for something suspenseful, amusing and unique, you'll love this top-notch book.
Content Analysis:
Profanity/Language: 7 religious exclamations; 10 mild obscenities; 1 derogatory name; 5 scatological words; 6 anatomical terms.
Violence/Gore: Several (16) brief incidents including joking about being killed and kidnapped; imagining getting beat up; verbal threats; implied physical abuse of child by parent; fist fights; second hand report of child's mother dying in car accident; story about characters getting electrocuted and dying; character catching fire and dying; while in graveyard, speculation of how people died; character getting beat up; character runs into coffee table and severely cuts leg; character electrocuted several times and struck by lightning; character's room gets vandalized.
Sex/Nudity: Several (14) brief incidents including characters sitting closely enough to touch shoulders and legs; wanting to kiss; kissing; touching arm; making out; character removes clothes to look at injury, ring out wet shirt and to change into clean clothing; mother breastfeeding her baby; character joking that she doesn't aspire to be a lingerie model; character's sexual orientation questioned by her mother; character thinking about having sex; character joking that if someone's parents hadn't wanted to have sex they wouldn't have been born.
Mature Subject Matter:
Death of a parent; Bullying; Implied physical abuse by parent to young child; Divorce.
Alcohol / Drug Use:
Character's father drinks wine; cigarette mentioned; character's mother asks her if she's on drugs; imagining a beer-sticky floor.
Reviewed By Jenny