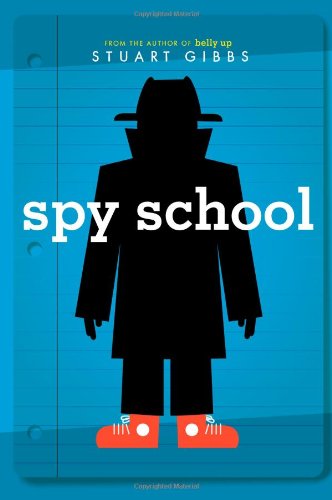 Publisher's Note:
Can an undercover nerd become a superstar agent? Ben Ripley sure hopes so—and his life may depend on it!

Ben Ripley may only be in middle school, but he's already pegged his dream job: C.I.A. or bust. Unfortunately for him, his personality doesn't exactly scream "secret agent." In fact, Ben is so awkward, he can barely get to school and back without a mishap. Because of his innate nerdiness, Ben is not surprised when he is recruited for a magnet school with a focus on science—but he's entirely shocked to discover that the school is actually a front for a junior C.I.A. academy. Could the C.I.A. really want him?

Actually, no. There's been a case of mistaken identity—but that doesn't stop Ben from trying to morph into a supercool undercover agent, the kind that always gets the girl. And through a series of hilarious misadventures, Ben realizes he might actually be a halfway decent spy…if he can survive all the attempts being made on his life!
Spy School
by Stuart Gibbs
Overall Review:
Author Stuart Gibbs gives a mash-up of James Bond and Maxwell Smart in his middle grade action novel Spy School. Twelve year old Ben Ripley doesn't get what he bargained for when he is recruited into a school for training junior CIA operatives. It is difficult to not like Ben...he may not have a lot of style at times, but he has substance and smarts when it counts. The voicing for this book sucks the reader in and the pacing keeps it cooking as the plot twists right up to the satisfying end--all with some delightful humor! In a middle grade demographic heavily populated with fantasy, it feels fresh to have some pure, classic spy adventure. Spy School is a great guy read and there is already a second book out, Spy Camp, for interested readers.
Content Analysis:
Profanity/Language: 2 religious exclamations; 3 mild obscenities; 4 anatomical terms.
Violence/Gore: A character is shocked; scene in which a character is shot at; verbal threats; threats at gunpoint; gunshots are fired and a tennis racket is used to knock a character unconscious; characters shoot each other in a paint ball war; students have a fist fight; character is hit with a dart gun; bomb threat; a character hears the sounds of a fight (machine gun, etc.), but sees nothing; chasing, shooting, and a character is knocked unconscious.
Sex/Nudity: Character thinks another character is attractive; a character sleeps in underwear only and had to evacuate in underclothing only.
Mature Subject Matter:
Kidnapping
Alcohol / Drug Use:
Tranquilizer is used on a character.
Reviewed By Cindy