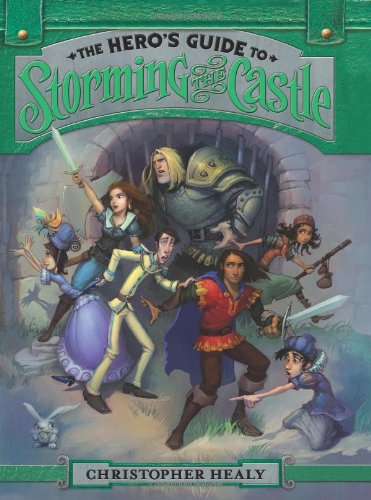 Publisher's Note:
Prince Liam, Prince Frederic, Prince Duncan, and Prince Gustav, the charming princes from the fairy tales of Cinderella, Rapunzel, Snow White, and Briar Rose, saved the countryside from an evil witch in The Hero's Guide to Saving Your Kingdom. And now, they have to save the day again, by keeping a magical object from falling into the hands of power-mad warlords who would use it for evil.

The Hero's Guide to Storming the Castle is the second in Christopher Healy's funny and action-packed middle-grade series, the perfect pick for kids who love the Shrek movies and readers who like their fantasy adventures with a heaping helping of humor.
The Hero's Guide to Storming the Castle
by Christopher Healy
Overall Review:
Christopher Healy is back with The Hero's Guide to Storming the Castle, the second book in his fairy tale twisting series. Almost all the characters from the first book return, with a few evil additions. The author provides just enough of the back story to refresh the reader's memory and although not essential, any new readers would probably want to pick up the first book before proceeding. Everything from the first book is present: abundant comedy, mix-ups, superb and complementary illustrations by Todd Harris, rollicking adventure, and fun. The camaraderie and loyalty of the princes (and the princesses) is particularly winning. There might be even more action than in the first book. Again, this book is an excellent read-aloud choice and would be enjoyed by both male and female readers. Oddly, in some ways, the ending to Storming the Castle was more satisfying than the end to Saving Your Kingdom. The ending definitely opens the path for the next book and the heroes are left in a bit of open-ended uncertainty and disarray. However, this leaves them set-up for future possibilities, instead of merely returning them to the same state they were at in the beginning of the book 2. Possibilities for characters are one of the most wonderful things in literature and I look forward to seeing this set of heroes capitalizing on them.
Content Analysis:
Profanity/Language: None
Violence/Gore: General references to past fights; minor injury while practicing with a sword; character is knocked unconscious and kidnapped; some knocking of heads, scuffling, punching, sword-fighting, arrow-shooting, chasing, throwing of items, knocking off of wall; a brawl in a tavern; characters thrown to some eels with implied death; a leg is broken in an accident; character thrown into wall with implied death. (Violence is non-detailed and told in comical style.)
Sex/Nudity: None
Mature Subject Matter:
None noted
Alcohol / Drug Use:
A sleeping potion is administered to characters.
Reviewed By Cindy