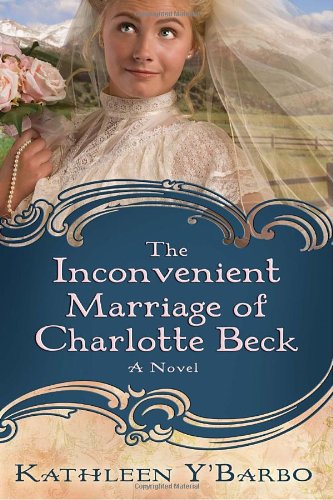 Publisher's Note:
Unlikely romance is sometimes just an inconvenient marriage away

Charlotte Beck may be entering adulthood, but she can't seem to keep to her stubborn, independent spirit from bucking social protocol. Fed up with her behavior, Charlotte's father Daniel pressures her to settle into a nice marriage despite knowing she is set on going to college. Then Daniel sees Charlotte with the handsome but annoying English astronomer Alex Hambly, and everything changes.

Though Alex and Charlotte can barely stand one another, Daniel offers them a deal they can't refuse: if they agree to marry, he will save Alex's family from financial ruin and grant Charlotte the freedom to go to college. Reluctantly the couple agrees, but in private they plot to annul the marriage as soon as possible.

But when Alex's feelings change and he refuses to dissolve their contract, will Charlotte find a way out of her vows? Or will she discover that maybe this marriage isn't so inconvenient after all?
This book was sent to Compass Book Ratings for review by Waterbrook Press
The Incovenient Marriage of Charlotte Beck
by Kathleen Y'Barbo
Overall Review:
If you are a fan of romance, you'll love this one! Although light on substance, the romance is sweet, fun, and takes a long while to come! Charlotte definitely has her own mind and is as crafty as a fox when it comes to getting her own way! She is funny and spunky. I love all of her plans, even though, as an 'outsider', you can see all the obvious flaws (along with the predictable outcomes)! As a headstrong and spoiled young woman, full of her own ideas about life, her father thinks she needs to be tamed a bit. Enter Alex Hambly, a titled (yet poor) member of the English aristocracy. I loved Alex's laid-back personality. He takes things in stride all the while knowing that he usually has the upper hand! His mother loves to spend money, his brother is a bit mentally challenged due to the rigors of a war he endured, his father passes away suddenly, and he himself is a dreamer—full of the desire to follow his calling as an astronomer. Therefore, he finds himself in dire need of money to save his family from ruin. What better circumstances to bring two people together? The banter between Alex and Charlotte (or Charlotte and anyone) is fun and the bargains they continually make are pretty silly!

The Inconvenient Marriage of Charlotte Beck has all the elements of the predictably perfect romance novel: Two people loathe each other but always seem to be thrown together; they fight in public as well as private; someone outside of their relationship sees through the fighting and throws them impossibly together…and then… What better recipe for a great romance novel!? It's the perfect curl-up-with-a-warm-cup-of-cocoa-on-a-long-dark-winter-evening read.
Content Analysis:
Violence consists of fist fights and a character believing he is always being followed or attacked by soldiers, etc.

Sexual content consists of the following: talk of corsets; a few tense moments when the characters are attracted to each other (nothing occurs); some kissing (three instances); some talk of consummating the marriage (they aren't going to so they can have the marriage annulled).
Mature Subject Matter:
Mature themes included arranged marriages and life choices.
Alcohol / Drug Use:
***
Reviewed By Emily