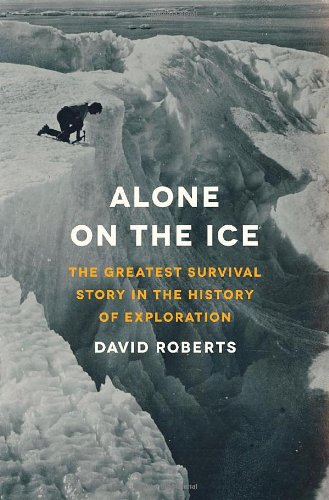 Publisher's Note:
His two companions dead, food and supplies vanished in a crevasse, Douglas Mawson was still one hundred miles from camp.On January 17, 1913, alone and near starvation, Douglas Mawson, leader of the Australasian Antarctic Expedition, was hauling a sledge to get back to base camp. The dogs were gone. Now Mawson himself plunged through a snow bridge, dangling over an abyss by the sledge harness. A line of poetry gave him the will to haul himself back to the surface.

Mawson was sometimes reduced to crawling, and one night he discovered that the soles of his feet had completely detached from the flesh beneath. On February 8, when he staggered back to base, his features unrecognizably skeletal, the first teammate to reach him blurted out, "Which one are you?"

This thrilling and almost unbelievable account establishes Mawson in his rightful place as one of the greatest polar explorers and expedition leaders. It is illustrated by a trove of Frank Hurley's famous Antarctic photographs, many never before published in the United States. 24 pages of illustrations
Alone on the Ice: The Greatest Survival Story in the History of Exploration
by David Roberts
Overall Review:
Alone on the Ice by David Roberts recounts some of the thrills and dangers of early Antarctic exploration. Something about that vast, icy land thrills the soul and excites the mind. There are many authentic photographs included that lend interest to the narrative.
One of the exciting aspects of this and other Antarctic tales is that of reading some of the stories in first person. Roberts must have read large quantities of journal entries and biographies in order to write his book. He also made an effort to show multiple sides of each event, where possible.
The strangest part in the reading was having the author start to tell the tale of survival and then leave off for several hundred pages to fill in the back history. It made the reader want to skip the in-between to rejoin the survival adventure. The book would have been a bit smoother had he written chronologically.
Although not a super-fast paced enthralling tale, the book gives a lot of facts and interesting tidbits. The most amazing part was how many times rescue seemed plausible and then some weather or other calamity whisked it away. It is a wonder explorers like Douglas Mawson were willing to keep returning. Roberts' book is truly a testament to the lure of the Antarctic and its desolate vastness.
Content Analysis:
Profanity/Language: 4 religious exclamations; 1 mild obscenity; 1 religious profanity.
Violence/Gore: Animals are killed, cut up and eaten; animals fight and one has his abdomen ripped open and must be shot; person feels others are threatening to shoot him; several people are reported killed in war.
Sex/Nudity: Person refers to his scrotum in a purely anatomical fashion.
Mature Subject Matter:
War, affairs, mental illness, suicide, death of friend.
Alcohol / Drug Use:
Characters consume alcohol of varying kinds; character takes a double dose of opium.
Reviewed By Susan