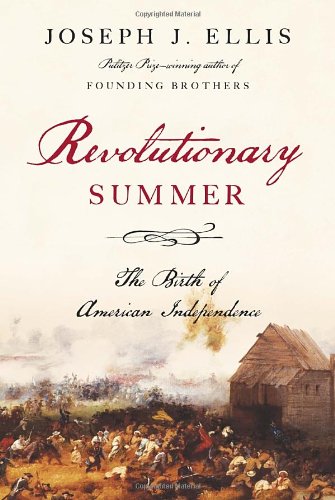 Publisher's Note:
A distinctive portrait of the crescendo moment in American history from the Pulitzer-winning American historian, Joseph Ellis.

The summer months of 1776 witnessed the most consequential events in the story of our country's founding. While the thirteen colonies came together and agreed to secede from the British Empire, the British were dispatching the largest armada ever to cross the Atlantic to crush the rebellion in the cradle. The Continental Congress and the Continental Army were forced to make decisions on the run, improvising as history congealed around them. In a brilliant and seamless narrative, Ellis meticulously examines the most influential figures in this propitious moment, including George Washington, John Adams, Thomas Jefferson, Benjamin Franklin, and Britain's Admiral Lord Richard and General William Howe. He weaves together the political and military experiences as two sides of a single story, and shows how events on one front influenced outcomes on the other.
Revolutionary Summer tells an old story in a new way, with a freshness at once colorful and compelling.
Revolutionary Summer: The Birth of American Independence
by Joseph J. Ellis
Overall Review:
Revolutionary Summer details the first critical months of America's fight for independence. Pulitzer Prize-winning author Joseph J. Ellis analyzes both the political and military battles and explains why these events were so significant. Ellis' writing is eloquent and informative, yet easy-to-follow. The novel is impeccably researched and I loved reading lines straight from George Washington and John Adams. Ellis also provides fascinating background on important British counterparts and explains how attitudes of the day lead to many crucial decisions. I learned many remarkable facts from Revolutionary Summer and highly recommend this novel.
Content Analysis:
Profanity/Language: 4 religious exclamations
Violence/Gore: Several reports of violence from the battlefields, including a beheading; a fire destroys a great portion of New York City; soldiers are executed during battle in non-detailed scenes of violent death.
Sex/Nudity: A sexual reference is made; a few reported incidents of sexual activity involving prostitutes and rape.
Mature Subject Matter:
War, death
Alcohol / Drug Use:
Individuals drink.
Reviewed By Rachel