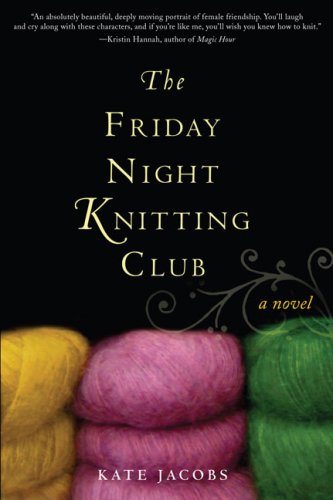 Publisher's Note:
A charming and moving novel about female friendship and the experiences that knit us together-even when we least expect it.
Walker and Daughter is Georgia Walker's little yarn shop, tucked into a quiet storefront on Manhattan's Upper West Side. The Friday Night Knitting Club was started by some of Georgia's regulars, who gather once a week to work on their latest projects and to chat-and occasionally clash-over their stories of love, life, and everything in between.
Georgia has her hands full, juggling the demands of running the store and raising her spunky teen daughter, Dakota, by herself. Thank goodness for Anita, her mentor and dear friend, and the rest of the members of the knitting club-who are just as varied as the skeins of yarn in the shop's bins. There's Peri, a prelaw student turned handbag designer; Darwin, a somewhat aloof feminist grad student; and Lucie, a petite, quiet woman who's harboring some secrets of her own.
However, unexpected changes soon throw these women's lives into disarray, and the shop's comfortable world gets shaken up like a snow globe. James, Georgia's ex, decides that he wants to play a larger role in Dakota's life-and possibly Georgia's as well. Cat, a former friend from high school, returns to New York as a rich Park Avenue wife and uneasily renews her old bond with Georgia. Meanwhile, Anita must confront her growing (and reciprocated) feelings for Marty, the kind neighborhood deli owner. And when the unthinkable happens, they realize what they've created: not just a knitting club, but a sisterhood.
The Friday Night Knitting Club
by Kate Jacobs
Overall Review:
Whether or not you are passionate about knitting, this book is a fantastically entertaining read. I must admit that when I first picked it up, I was expecting a tale of some fusty old ladies who gather for a knitting group and gossip to pass the time away. I was quite pleasantly surprised when I was a few chapters in and realized there were only a handful of the stereotypical old woman knitters in this book. Don't get me wrong, I have nothing against the older generation, but a book marketed towards them might not be the most entertaining read.
Knitting is only one of the subjects in this book that is a nice blend of romance and fictional reality. Many of the scenes in this book made me eager to keep reading and to get to know the characters better. A knitting shop owned by a mother and daughter, a deli next door that they enjoy frequenting, and many good friends that gather every Friday night to knit and make conversation are all ingredients that make this book the delicious concoction it is.
Content Analysis:
Language/Profanity: 5 religious exclamations; 42 mild obscenities; 3 derogatory names; 1 scatological word; 2 anatomical terms; 17 F-word derivatives.
Violence/Gore: A miscarriage is briefly described and talked about.
Sex/Nudity: A man and woman have pre-marital sex, this is mentioned several times throughout the book; songs about sex are heard on the radio; a married couple is mentioned to be having sex to get pregnant; a woman's visit to the gynecologist is mentioned briefly; sex is treated casually on several occasions; kissing between adults.
Mature Subject Matter:
Cheating in marriage; divorce; cancer; miscarriage; lots of medical references involving cancer and pregnancies.
Alcohol / Drug Use:
Adults smoke pot; adults drink alcohol; a woman is mentioned to be hung-over; there is a lot of drinking at social functions.
Reviewed By Lydia