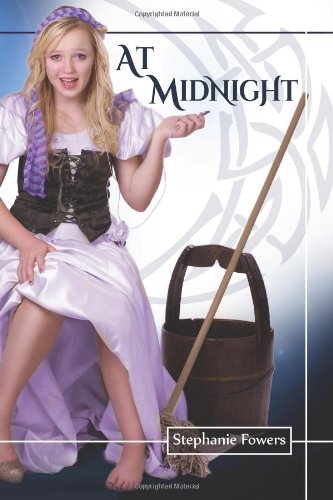 Publisher's Note:
"At Midnight" is the second book in the Twisted Tales trilogy. It's a YA fantasy about a girl named Bridgette with Cinderella tendencies, who has to find true love's kiss in order to get some guy who claims to be her faery godmother off her back. Seriously, who is Bridgette anyway? 1. Loser of Omak High 2. Girl who rubs her fingers raw working fast food 3. Victim of the evil stepmother who runs the group home 4. Not-so-proud owner of a hearth where fire-starting goblins live 5. Asylum wannabe with occasional schizophrenic episodes Not even Bridgette knows. Not that she can do anything about it. Besides, her godmother is supposed to save her, not the other way around! But Halley Starr is a little busy fighting Rumpelstiltskin flunkies and his beanstalk, so her godmother sends some rude faery guy to help Bridgette instead. It's up to him to make sure she gets that true love's kiss that will undo the banishment curse, except he seriously knows nothing about love or faery hunters, red riding hood, spindles…or high school! Excuse me? Even if he did, how is Bridgette supposed to find true love if everyone she loves disappears? "Stop the clock from striking twelve"
This book was sent to Compass Book Ratings for review by the Author
At Midnight
by Stephanie Fowers
Overall Review:
Although At Midnight didn't capture my fancy quite as much as its predecessor, With A Kiss, I still thoroughly enjoyed Stephanie Fowers' brilliantly complex ride through half a dozen different fairytales (oops—faerytales!). After all, what's not to love about a Cinderella plagued with overly-helpful goblins, a sarcastic (and invisible) faery godfather, more than one dashing young man, and a little madcap science thrown into the mix? Just like its prequel, At Midnight has so many twists and turns that even after I was positive that I'd figured everything out, I still found myself surprised over and over again as the story went on.
At Midnight had several of the same weaknesses as With A Kiss (typos, confusing dialogue attributions, etc.), but like the first book in the series, At Midnight still managed to deliver a compelling, delightful romp that I found impossible to put down. And take it from me—when you get to the end, you'll want to have the third book on hand!
Like its predecessor, At Midnight would be a great read for both teens and adults who enjoy fairytale and mythology, as well as readers who love a complex plot with lots of surprises.
Content Analysis:
Profanity/Language: None
Violence/Gore: Throughout the book, there are scenes of magical violence and also scenes that are creepy/frightening in a supernatural way. (In total, there are about 6 of these scenes, and a few scattered references to creepy/supernatural events as well.) There are two extended scenes involving battles between a number of magical beings (one is about two pages long, one is ~10). All of the violence and frightening scenes involve supernatural events and attacks that are difficult to describe in a review.
Sex/Nudity: Characters flirt throughout the book. A teenage girl thinks about teenage boys being attractive. On two occasions, there are briefly described kisses.
Mature Subject Matter:
Parentless children, poor living conditions.
Alcohol / Drug Use:
Teenagers drink beer at a party.
Reviewed By CindyB