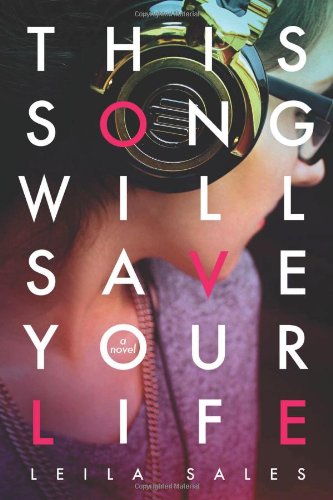 Publisher's Note:
Making friends has never been Elise Dembowski's strong suit. All throughout her life, she's been the butt of every joke and the outsider in every conversation. When a final attempt at popularity fails, Elise nearly gives up. Then she stumbles upon a warehouse party where she meets Vicky, a girl in a band who accepts her; Char, a cute, yet mysterious disc jockey; Pippa, a carefree spirit from England; and most importantly, a love for DJing. Told in a refreshingly genuine and laugh-out-loud funny voice, Leila Sales' THIS SONG WILL SAVE YOUR LIFE is an exuberant novel about identity, friendship, and the power of music to bring people together.
This Song Will Save Your Life
by Leila Sales
Overall Review:
Elise, a teenager who struggles with self-value, brings readers a clearer view of obstacles teens face in this stunning new novel that will appeal to both boys and girls. Even though the main character is female, boys should be able to relate quite well to the male characters that crop up in each chapter.
We are introduced to Elise in one of her darker times, and for a while things seem to be in a stagnant state, with no hope for a brighter horizon. In real life, when someone is in this situation, it seems to help to get out and make new friends; see new sights...and Elise finds this true in her story also. Once she finds new friends and passions, she discovers that her life might not be so bad after all.
The first few chapters felt a little insincere to me. Kind of like an imitation of another story. They had the potential to be great, but didn't quite make the cut. Thankfully, after a little bit of a rocky start, this book finds its voice and it left me wanting to read more from this author! This Song Will Save Your Life is a mixture of romance, dark teen emotions and depression, music, and disagreements with parents. Anyone who read Thirteen Reasons Why and enjoyed it will want to pick up this book and give it a try.
Content Analysis:
Profanity/Language: 2 Religious exclamations; 12 Mild obscenities; 1 Derogatory name; 1 F-Word derivative
Violence/Gore: A teen girl cuts herself intentionally with an x-acto knife in an attempt to commit suicide.
Sex/Nudity: A teen couple shares several kisses; sophomores in high-school have sex, with little explicit detail; a girl and a boy share a romantic interest.
Mature Subject Matter:
Suicide; partying; divorced parents; bullying.
Alcohol / Drug Use:
Teens drink alcohol at parties; teens smoke.
Reviewed By Lydia