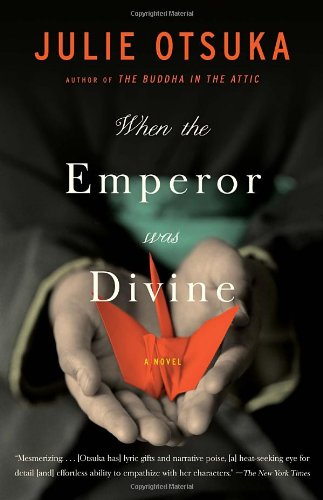 Publisher's Note:
The debut novel from the PEN/Faulkner Award Winning Author of The Buddha in the Attic

On a sunny day in Berkeley, California, in 1942, a woman sees a sign in a post office window, returns to her home, and matter-of-factly begins to pack her family's possessions. Like thousands of other Japanese Americans they have been reclassified, virtually overnight, as enemy aliens and are about to be uprooted from their home and sent to a dusty internment camp in the Utah desert.

In this lean and devastatingly evocative first novel, Julie Otsuka tells their story from five flawlessly realized points of view and conveys the exact emotional texture of their experience: the thin-walled barracks and barbed-wire fences, the omnipresent fear and loneliness, the unheralded feats of heroism. When the Emperor Was Divine is a work of enormous power that makes a shameful episode of our history as immediate as today's headlines.
When the Emperor Was Divine
by Julie Otsuka
Overall Review:
Julie Otsuka has perfectly captured the essence of Japanese-American culture in this beautiful, haunting story about internment during World War II. The story is sparsely told, but the language is lovely. We don't even know the names of the characters--they could be anyone--they could be you or me.
We feel the despair and confusion of the internees as everything is taken from them and they are shipped off to Topaz to spend years in humiliating circumstances just for having Japanese heritage. The nameless main characters each tell their own stories of struggle through this heartbreaking experience, from the time they find out they must leave behind everything they own until they are finally released with only their dignity.
Otsuka's brilliant writing all but forces the reader to ask some difficult questions: what would I do in similar circumstances? How would I treat someone whose parents or grandparents came from a country that attacked mine?
As I considered the little-known atrocities of this shameful government initiative, I couldn't keep current events out of my mind. This book left me with regret for the past and a hope that I would never mistreat or judge another based on something someone from their culture did. A thought-provoking novel. Otsuka delivers a thing of beauty that packs a punch.
Content Analysis:
Profanity/Language: None
Violence/Gore: A character kills a dog with a shovel; a character briefly describes torture in a prison camp; a character is attacked and beaten by several people with no details; a house is set on fire; a shed is dynamited; a person is shot and killed while trying to escape a prison camp; a story is told about a baby that is killed; a person dies of exposure.
Sex/Nudity: Two people are allegedly found naked together; pornography is found; a vague reference is made to sexual abuse.
Mature Subject Matter:
Female maturation.
Alcohol / Drug Use:
Tobacco use (a minor and an adult); an adult drinks alcohol.
Reviewed By Leslie