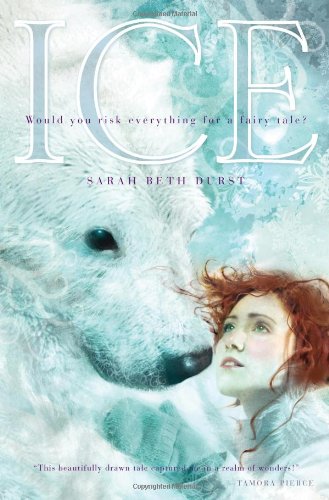 Publisher's Note:
When Cassie was little she thought her mother had been taken prisoner by trolls because of a deal she'd made with the Polar Bear King. Just a fairy tale to soothe a child whose mother had died. But on her eighteenth birthday, the "fairy tale" comes true when the Polar Bear King comes to take Cassie for his bride. Realizing she has the power to save her mother, Cassie makes her own deal with the bear and finds herself on a journey against time, traveling across the brutal Arctic to the land east of the sun and west of the moon. It is a journey that will teach Cassie the true meaning of love and family—and what it means to become an adult.
Ice
by Sarah Beth Durst
Overall Review:
Talking animals, magical transformations, sentient winds—have you ever wondered if there could be a logical explanation for all the fantastical things that happen in fairy tales? In Ice, Sarah Beth Durst explores exactly this question, setting a classic Scandinavian fairy tale ("East of the Sun, West of the Moon") in a modern-day world of scientific facts. Cassie has grown up at an Arctic research station with her scientist father and his team, studying polar bears. When bizarre things start happening to her, she has a hard time believing it—but soon, she's falling head-over-heels into a fairy tale world more wild and wonderful than anything she could have imagined. I'm not sure I've ever read a book quite like Ice. It captivated me from the first page, pulling me deep into Cassie's frozen home and keeping me frantically turning pages until the end. Although there were places in which I felt that the story lacked detail, and some of the storylines and explanations felt weak, it still made for a delightfully compelling winter read that had me thinking about the story even after I'd closed the book for the last time. If you're looking for a fairy tale that's not quite like anything you've read before, Ice is the book for you!
Content Analysis:
Profanity is mostly fairly mild, but is scattered consistently throughout the novel.

Violence is mostly mild, with one or two scenes (of a polar bear eating a seal) that might be considered moderate; however, the description is not particularly graphic and the scene is handled in a light and amusing way rather than an intense one.

Sexual content is mild to moderate; all descriptions are extremely tame and handled in a sweet manner, but there are a few discussions about a "wedding night" (a husband tells his wife that it is their wedding night; a wife tells her husband they never have a wedding night). Two married characters kiss in bed and it is implied that they have sex, but it is not described. A character is pregnant.
Mature Subject Matter:
Mature themes consist of sacrifice, endurance, and a girl growing up without a mother.
Alcohol / Drug Use:
***
Reviewed By CindyB