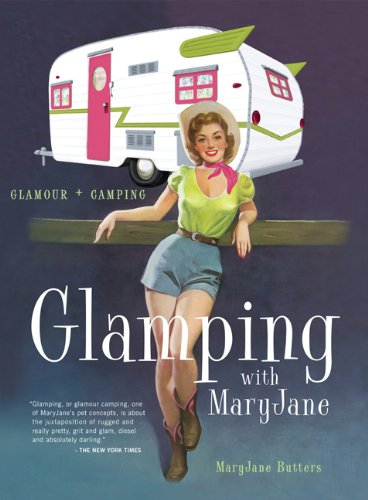 Publisher's Note:
MaryJane Butters' go-to guide for putting glamour into camping
"Glamping, or glamour camping, one of the MaryJane's pet concepts, is about the juxtaposition of rugged and really pretty, grit and glam, diesel and absolutely darling."-The New York Times.
Glamping-unleashing your inner wild while wearing a pair of fishing-lure earrings-is for every woman (or man!) who ever had a get-away-from-it-all fantasy (with a few frilly embellishments thrown in). Learn about the never-fail campfire, cooking with cast iron, how to change a flat, and much, much more. Follow the growing Glamping movement at maryjanesfarm.org and nationalglampingweekend.com.
Like the infamous Calamity Jane, who said, "I figure if a girl wants to be a legend, she should go ahead and be one," MaryJane Butters coined the term glamping years ago when she founded her unusual Idaho canvas wall-tent bed & breakfast, which was featured in The New York Times Magazine and Travel & Leisure as "the place to be." Legend status achieved, MaryJane lives in Moscow, Idaho, where she runs her many businesses, which include a successful organic farm, product lines, a bed & breakfast, and MaryJanesFarm magazine. This is her fourth book.
This book was sent to Compass Book Ratings for review by Gibbs Smith
Glamping with MaryJane
by MaryJane Butters
Overall Review:
Who doesn't love a good camp-out? The cozy fire, delicious S'mores and mystery meat, those confining sleeping bags...I can almost hear the crickets and see the lightning bugs! Camping is sometimes viewed as more of a masculine hobby--what with all the tent raising and fire building. But with women becoming more self-reliant, a new craze has popped up in the world of camp-making...Glamping!
Glamping (or glamorous camping) is every bit as much fun as it sounds. Not only do you get to experience the great outdoors, but you do it in a fun and comfortable way. This book makes any kind of camping sound doable, and fun. Any woman is capable of glamping; and there are many different ways to go about it. A tent can be built by hand, or you could take things a bit further and purchase an adorable old-fashioned camper. Either way, I can't wait to try it out! Glamping with MaryJane is filled with pictures of instructions of what to look for in a camper, recipes, gear one might want or need, and fun accessories to fill your new abode with. The recipes that are included are fun and creative, and show ways you can cook simply in the wild.
MaryJane has an eye for rustic style, and that is proved again and again in this beautiful book. More than just a how-to manual, this book would make great eye candy for someone stuck in a big city; and might even inspire a glamping trip!
Content Analysis:
Language/Profanity: None
Violence/Gore: None

Sex/Nudity: None
Mature Subject Matter:
None
Alcohol / Drug Use:
There are several recipes included that are cocktails, and that contain alcohol.
Reviewed By Lydia