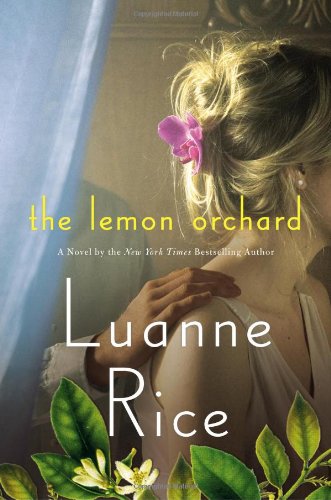 Publisher's Note:
From bestselling author Luanne Rice—a captivating and sexy novel of love, both enduring and unexpected

Year after year, Luanne Rice's fans eagerly await her next book. Their enthusiasm is soon to be rewarded with The Lemon Orchard, Rice's romantic new love story between two people from seemingly different worlds.

In the five years since Julia last visited her aunt and uncle's home in Malibu, her life has been turned upside down by her daughter's death. She expects to find nothing more than peace and solitude as she house-sits with only her dog, Bonnie, for company. But she finds herself drawn to the handsome man who oversees the lemon orchard. Roberto expertly tends the trees, using the money to support his extended Mexican family. What connection could these two people share? The answer comes as Roberto reveals the heartbreaking story of his own loss—a pain Julia knows all too well, but for one striking difference: Roberto's daughter was lost but never found. And despite the odds he cannot bear to give up hope.

Set in the sea and citrus-scented air of the breathtaking Santa Monica Mountains, The Lemon Orchard is an affirming story about the redemptive power of compassion and the kind of love that seems to find us when we need it most.
The Lemon Orchard
by Luanne Rice
Overall Review:
The house-sitter and orchard keeper in this book may seem to have nothing in common at first glance, but once the story digs a bit deeper, the reader is able to see how two very different stories can twine together in similar ways.
Loss and love are two very powerful things. In The Lemon Orchard, a grieving mother is trying her best to cope with the loss of her daughter, but their bond ran deep, and some days life without her child seems to be unbearable. Meeting a tall, dark, and handsome stranger is an unexpected, but welcome diversion from her secluded life. When she discovers his dark sorrow, she is pulled by her heart to help him in a way that might change his life drastically.
Though this story is a sad one in the beginning, it ends on a much more positive note. Luanne Rice's books are always a delight to read, with just the right amount of romance, good storytelling, and sometimes a bit of suspense thrown in. If you are looking for a satisfying, yet short read, why not pick this book up and give it a try? Chances are you won't be disappointed.
Content Analysis:
Language/Profanity: 1 religious exclamation; 4 mild obscenities; 1 anatomical term; 5 F-Word derivatives.
Violence/Gore: A young child is lost in the desert and her near death experience is described; child dies in a car accident, and it is described briefly; "femicide" is referred to once.
Sex/Nudity: Two adults kiss multiple times; a man and woman are implied to have had sex several times; a man and woman are very intimate, and there is a brief passage where undressing and sex is mentioned; prostitution is mentioned.
Mature Subject Matter:
Death of a child; mourning; lost children
Alcohol / Drug Use:
An adult is mentioned to have died from alcoholism; adults drink alcohol.
Reviewed By Lydia