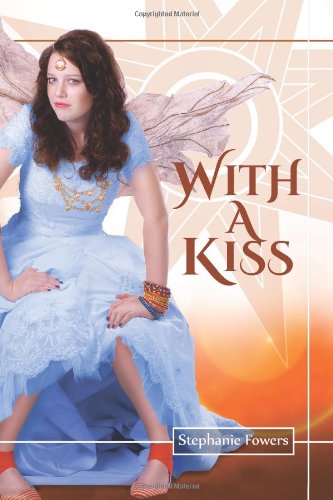 Publisher's Note:
"With a Kiss" is the first book in the Twisted Tales series. It's a YA fantasy about a girl with no heart who will do anything to get it back from that dirty faery who stole it from her. There are seven rules of the faery kingdom that mortals must never break: 1. No trespassing sacred faery territory 2. Don't ever say thank you 3. Using a faery's given name is a no-no 4. Resist the music of the faeries 5. Never break a promise to a faery 6. Refuse all faery food 7. And never, never fall in love with a faery But Halley is cursed. Yeah. No joke. She can barely survive Omak High with that shard of ice in her heart. How could she possibly be a proper godmother and stop Rumpelstiltskin from taking the heir of the faery kingdom? And let's be honest, there is no way she'll go with Goldilocks (some hot faery guy) who won't bother telling Halley his name or that she looks like she's talking to herself when he's around. Not a chance. And really, who can blame her? If Halley wants her heart back again, she can't worry about the rules . . . "Faerytales are real, they just haven't happened yet."
This book was sent to Compass Book Ratings for review by the Author
With A Kiss
by Stephanie Fowers
Overall Review:
As a long-time lover of fairytales, With A Kiss was just my kind of book! Weaving together several fairytales (oops—faerytales!) along with stories from Celtic and Gaelic mythology, Fowers' first book in the Twisted Tales series keeps the reader guessing right up until the very last page.
I found myself confused and a little frustrated by several things in this book—there were a number of typos and grammatical issues, as well as places where dialogue was confusing and I couldn't quite tell who was speaking or what was happening. Typically, these would be the kind of things that would knock quite a bit off of my rating of a book, but I enjoyed the fantastic storytelling and world-building of With A Kiss so much that it still managed to be a solid 4-star book for me—something that isn't especially easy to do!
With A Kiss would be a terrific read for teens of all ages, as well as adults who are fans of myth and fairytales. (Spotting all of Fowers' brilliant and subtle allusions to classic literature and legend is half the fun!)
Content Analysis:
Profanity/Language: None
Violence/Gore: Throughout the book there are several scenes of fantasy suspense and violence as characters battle or are intimidated by fantasy characters (banshees, goblins, magical wolves, etc.). There is also a fantasy battle as part of the climax. Antagonist characters are killed as part of the battle.
Sex/Nudity: There are several instances of flirting throughout the book, and a few instances of hand-holding/chaste touching and briefly described kissing.
Mature Subject Matter:
None noted
Alcohol / Drug Use:
None
Reviewed By CindyB