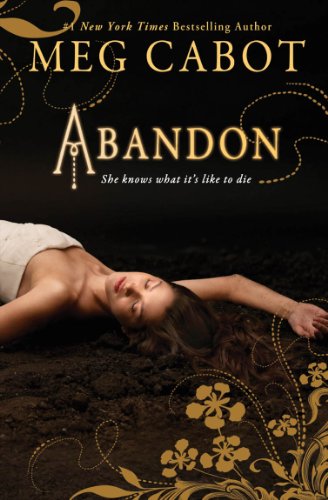 Publisher's Note:
New from #1 New York Times bestselling author Meg Cabot, a dark, fantastical story about this world . . . and the underworld.

Though she tries returning to the life she knew before the accident, Pierce can't help but feel at once a part of this world, and apart from it. Yet she's never alone . . . because someone is always watching her. Escape from the realm of the dead is impossible when someone there wants you back.

But now she's moved to a new town. Maybe at her new school, she can start fresh. Maybe she can stop feeling so afraid.

Only she can't. Because even here, he finds her. That's how desperately he wants her back. She knows he's no guardian angel, and his dark world isn't exactly heaven, yet she can't stay away . . . especially since he always appears when she least expects it, but exactly when she needs him most.

But if she lets herself fall any further, she may just find herself back in the one place she most fears: the Underworld.
Abandon
by Meg Cabot
Overall Review:
In many ways, the old stories are the best stories. That is why it is so popular to re-tell and re-spin fairy tales and myths. Author Meg Cabot does just this by drawing inspiration (lightly) from the myth of Persephone in Abandon. Abandon is the first in a three book series. The action takes place over only about three days with the protagonist, Pierce, alluding to and slowly filling in events from the previous year and a half. This style of narrating is what teases the reader to continue reading because this book is really all about exposition. There isn't too much action; it is almost entirely set-up with incomplete explanations and a cliff-hanger ending.
Ms. Cabot knows her audience and she tightly targets the female young adult demographic with her heroine, current setting, and moody and dangerous male love interest. It would be surprising if many older readers (aka adults) found the story and characters complex enough to entice, but in all honesty, Ms. Cabot isn't writing for them. This is a read that will appeal to the young romantic and with all books in the series already published, the reader won't have to wait around for resolution.
Content Analysis:
Profanity/Language: 14 religious exclamations; 5 mild obscenities; 7 derogatory names; 2 anatomical terms.
Violence/Gore: Report of death of a family member; brief scene in which a character drowns; property destroyed; character is punched; character breaks another character's hand and crushes finger; report of a character found after being murdered; report of a suicide.
Sex/Nudity: Reference to breast reduction surgery; stated that a couple is making out; joking reference to having sex; characters kiss multiple times; teacher makes advances towards a student.
Mature Subject Matter:
Death, Suicide
Alcohol / Drug Use:
Mention that a character was incarcerated for drug trafficking.

Reviewed By Cindy