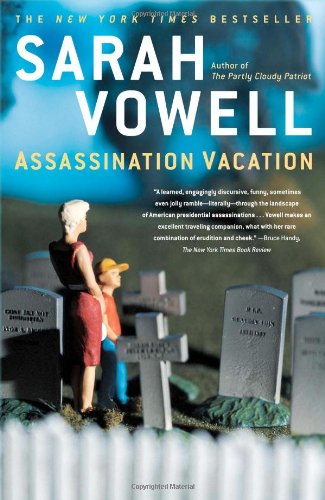 Publisher's Note:
Sarah Vowell exposes the glorious conundrums of American history and culture with wit, probity, and an irreverent sense of humor. With Assassination Vacation, she takes us on a road trip like no other -- a journey to the pit stops of American political murder and through the myriad ways they have been used for fun and profit, for political and cultural advantage.

From Buffalo to Alaska, Washington to the Dry Tortugas, Vowell visits locations immortalized and influenced by the spilling of politically important blood, reporting as she goes with her trademark blend of wisecracking humor, remarkable honesty, and thought-provoking criticism. We learn about the jinx that was Robert Todd Lincoln (present at the assassinations of Presidents Lincoln, Garfield, and McKinley) and witness the politicking that went into the making of the Lincoln Memorial. The resulting narrative is much more than an entertaining and informative travelogue -- it is the disturbing and fascinating story of how American death has been manipulated by popular culture, including literature, architecture, sculpture, and -- the author's favorite -- historical tourism. Though the themes of loss and violence are explored and we make detours to see how the Republican Party became the Republican Party, there are all kinds of lighter diversions along the way into the lives of the three presidents and their assassins, including mummies, show tunes, mean-spirited totem poles, and a nineteenth-century biblical sex cult.
Assassination Vacation
by Sarah Vowell
Overall Review:
The New York Times Best Seller Assassination Vacation by Sarah Vowel is a little bit travelogue, a little bit history, a little bit memoir, and a little bit random. Vowel meanders through a historical tour of three presidential assassinations. Reminiscent of a stand-up comedian, her voice is rapid-fire, funny, sometimes sarcastic and overall pretty darn entertaining. But, it is not all frivolity; Vowel takes time along the way to reflect upon events and perspectives. This book isn't my normal reading material, but I found it a refreshing and enjoyable read. For those who like the quirks of history delivered in an entertaining voice, rather than straight-up historical narratives, this book is just right.
Content Analysis:
Profanity/Language: 3 religious exclamations; 19 mild obscenities; 1 religious profanity; 10 derogatory names; 3 anatomical terms.
Violence/Gore: Report of a person hanged/executed; brief description of an assassination attempt involving pistol-whipping; knives, mention of blood; 3 presidential assassinations described in detail; report of a stabbing, murder of a wife and attempt to kill his children; detailed discussion and quotes regarding Lincoln's autopsy (description of brain) and items on display like blood-covered items and skull fragments; report of killing/shooting during Civil War; report of slaves shot/whipped; report of prison torture; brief description of doctor probing for a bullet; report of cannibalism; report of death by electric chair; reference to various wars; report of execution of villagers ages 10 and older.
Sex/Nudity: References to sex jokes, losing virginity, sleeping around, fondling; 'knocked up', bumper sticker about gays, T-shirt that says "Porn Freak Rehab'; report of an affair; report of a woman pregnant out of wedlock; comment about master raping slaves; multi-page section outlining a 19th centuries sex-practices, mostly general in nature, but a few details.
Mature Subject Matter:
Politics, Assassination, Death, Treason, Cults
Alcohol / Drug Use:
Passing reference so speed and coke.
Reviewed By Cindy