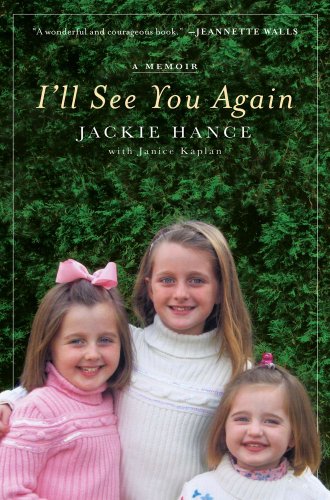 Publisher's Note:
In a powerful and intimate memoir, Jackie Hance shares her story of unbearable loss, darkest despair, and—slowly, painfully, and miraculously—her cautious return to hope and love.

Until the horrific car accident on New York State's Taconic Parkway that took the lives of her three beloved young daughters, Jackie Hance was an ordinary Long Island mom, fulfilled by the joyful chaos of a household bustling with life and chatter and love. After the tragedy, she was "The Taconic Mom," whose unimaginable loss embodied every parent's worst nightmare. Suddenly, her life-long Catholic faith no longer explained the world. Her marriage to her husband, Warren, was ravaged by wrenching grief and recrimination. And her mind, unable to cope with the unfathomable, reinvented reality each night, so she awoke each morning having forgotten the heartbreaking facts: that Emma, age 8; Alyson, age 7; and Katie, age 5, were gone forever. They were killed in a minivan driven by their aunt, Jackie's sister-in-law, Diane Schuler, while returning from a camping weekend on a sunny July morning.

I'll See You Again chronicles the day Jackie received the traumatizing phone call that defied all understanding, and the numbed and torturous events that followed—including the devastating medical findings that shattered Jackie to the core and shocked America. But this profoundly honest account is also the story of how a tight-knit community rallied around the Hances, providing the courage and strength for them to move forward. It's a story of forgiveness, hope, and rebirth, as Jackie and Warren struggle to rediscover the possibility of joy by welcoming their fourth daughter, Kasey Rose Hance.

The story that Jackie Hance shares for the first time will touch your heart and warm you to the power of love and hope.
I'll See You Again
by Jackie Hance
Overall Review:
Fans of memoirs dealing with the loss of a child (for instance, Two Kisses for Maddy; Signs of Life) will immediately be sucked in by this story of a mother and father in the throes of grief. In this heart wrenching book, we get a sneak peek into the lives of a family who has been torn apart by loss and tragedy...and how it affects their lives and friendships. While it is a sadly commonplace occurrence for a family to lose a child, it is rare for all three of your children to be taken from you in one go.
Parts of this book were dark and harrowing, but there were also parts that showed a little bit of hope shining through, even in the midst of such sadness and pain. I think we can all learn a little bit about how much we should cherish life from reading this book. Hopefully we are left with a feeling that we should live each day to the fullest, since we are never certain how much time is left on the clock.
Content Analysis:
Profanity/Language: 3 mild obscenities; 2 religious exclamations.
Violence/Gore: A car crash that kills 4 people is briefly mentioned several times, but no gore is depicted. A woman has thoughts of suicide, but never acts on these thoughts.
Sex/Nudity: A man and wife are mentioned to be struggling in their love life after the loss of their children.
Mature Subject Matter:
Death; Thoughts of suicide; Loss of a child.
Alcohol / Drug Use:
Alcohol is drunk in places throughout the book; a drunk driver is mentioned and blamed for the death of a family.
Reviewed By Lydia