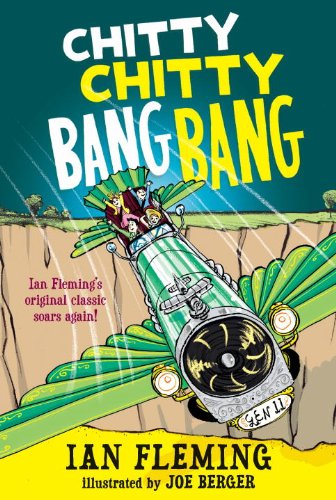 Publisher's Note:
Ian Fleming's beloved original text — newly illustrated by Joe Berger!

"Crackpot" is what everybody calls the Pott family. So when they go to buy a new car and come back with a wreck, nobody is surprised. Except for the Potts themselves. First, the car has a name. And she tells them what it is. Then they find out that she can fly. And swim. . . . Chitty Chitty Bang Bang is a car on a mission to stop a criminal gang in its tracks — and she is taking the Potts with her! Jump into the world's most loved magical car for her first adventure.
Chitty Chitty Bang Bang
by Ian Fleming
Overall Review:
"Never say 'no' to adventures. Always say 'yes,' otherwise you'll lead a very dull life."
Chitty Chitty Bang Bang is a fun and magical tale readers of all ages will enjoy. Written by James Bond creator Ian Fleming, the book has plenty of action and intrigue (all family-friendly). Fleming's enthusiasm for the Potts family and their extraordinary car is contagious and I couldn't help smiling as the group found themselves on several exciting adventures. I was particularly impressed by the clever Potts twins and how they worked together to save the day. The book has several darling illustrations and there's even a recipe that ties into the plot. Chitty would be a perfect book to read aloud to the whole family, so pick up a copy of this well-loved classic!
Content Analysis:
Profanity/Language: None
Violence/Gore: Verbal threats; a scene of fantasy violence (a magical car hits a character with its mudguards); an explosion destroys property; characters are shot at but not hit.
Sex/Nudity: None
Mature Subject Matter:
Gangsters, kidnapping
Alcohol / Drug Use:
Adults are presented with cigarettes.
Reviewed By Rachel