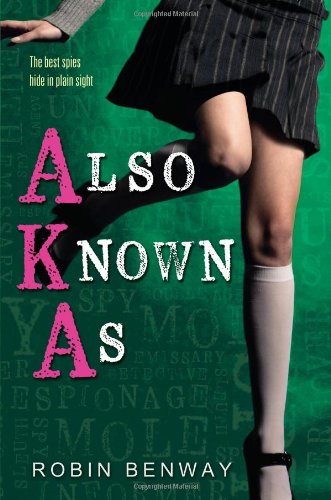 Publisher's Note:
Being a 16-year-old safecracker and active-duty daughter of international spies has its moments, good and bad. Pros: Seeing the world one crime-solving adventure at a time. Having parents with super cool jobs. Cons: Never staying in one place long enough to have friends or a boyfriend. But for Maggie Silver, the biggest perk of all has been avoiding high school and the accompanying cliques, bad lunches, and frustratingly simple locker combinations.

Then Maggie and her parents are sent to New York for her first solo assignment, and all of that changes. She'll need to attend a private school, avoid the temptation to hack the school's security system, and befriend one aggravatingly cute Jesse Oliver to gain the essential information she needs to crack the case . . . all while trying not to blow her cover.
This book was sent to Compass Book Ratings for review by Bloomsbury USA
Also Known As
by Robin Benway
Overall Review:
I've always been a fan of mystery/spy books, and Also Known As did not disappoint! In the spirit of Heist Society, Robin Benway has crafted an intricate spy syndicate and threaded it into a fantastic story. The characters all have complex back stories and the spy logic and lingo are watertight. The plotline was a little more focused on Maggie's social life than I was expecting, but the plot was still engaging. Moving along with a more emotional line than action, I thought that Maggie's character was well-rounded. I found this book to be relatable and heartwarming. The end was a little anti-climactic, but it didn't detract from the overall story. I would recommend this book to anyone who loves a good spy story, and to teens who love a relatable book and clean cut teen romance.
Content Analysis:
Profanity/Language: 40 religious exclamations; 25 mild obscenities; 1 religious profanity; 7 derogatory names, 32 scatological words; 16 anatomical terms; and 2 offensive hand gestures.
Violence/Gore: Mischief, trickery; stories of past violence; implied occurrence of violence; non-life threatening injuries.
Sex/Nudity: Lots of flirting, hand holding, and kissing; reference to teenagers having had sex.
Mature Subject Matter:
Divorce, crime and illegal activities, underage drinking, death.
Alcohol / Drug Use:
Teenagers drinking at a party; an underage character gets severely drunk; mentions of people doing drugs or taking un-prescribed pills.
Reviewed By Annelise