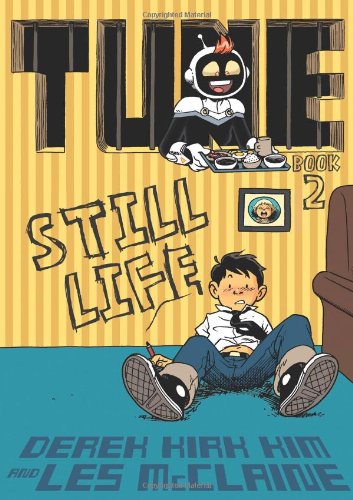 Publisher's Note:
In the second installment of the TUNE series of graphic novels, our hapless hero Andy Go is settling into life in an alien zoo...as one of the exhibits. It's not so bad: the food is good, and his environment is a perfect copy of his house back on Earth. But everything falls to pieces when Andy realizes he's been tricked: there will be no weekend visits back to Earth, as he was promised, and his contract doesn't last one year...it lasts a lifetime.
Funny, sweet, and incredibly goofy, TUNE is Derek Kirk Kim writing at the top of his talents. Tune: Still Life introduces artist Les McClaine, who brings a new level of sensitivity to the story. Fans of the first volume will be delighted by this new entry in the series.
This book was sent to Compass Book Ratings for review by First Second Books
Tune: Still Life
by Derek Kirk Kim
Overall Review:
Andy Go finds himself in quite a mess in this quirky, clever graphic novel. Creators Kim and McClaine offer a unique insight into animal captivity and what it might be like to be a specimen on display. Andy's situation provides plenty of food for thought while entertaining the reader thoroughly with great black and white graphics that are mildly reminiscent of the anime style.
Life in captivity isn't the only theme in Still Life. Andy must deal with his own lack of ambition, which got him into this situation, and he struggles with hopelessness as well. Will he ever see the girl he loves again? While he tries not to succumb to self-pity and inertia--a difficult battle since he's used to not doing much--he learns to clean up after himself, befriend people who are unpleasant, and put the needs of others above his own.
All this is portrayed in minimalistic fashion, with lots of "space" on the pages and sparse dialogue. Still Life is fun and thought provoking. I'm interested to see what happens in the next installment.
Content Analysis:
Profanity/Language: 21 religious exclamations; 20 mild obscenities; 7 religious profanities; 12 derogatory names; 11 scatological words; 3 anatomical terms; 3 f-word derivatives.
Violence/Gore: A character kicks and hits another character with no injuries.
Sex/Nudity: Two people are seen getting out of the shower, with objects covering private areas; an alien is seen naked with an object covering private areas; prison rape is referred to; a reference is made to naked women; a reference is made to planning sex; virginity is referred to; "humping" is referred to; pornographic magazines are seen once with no nudity depicted, and pornography is referred to once.
Mature Subject Matter:
Kidnapping, cheating, imprisonment.
Alcohol / Drug Use:
None
Reviewed By Leslie