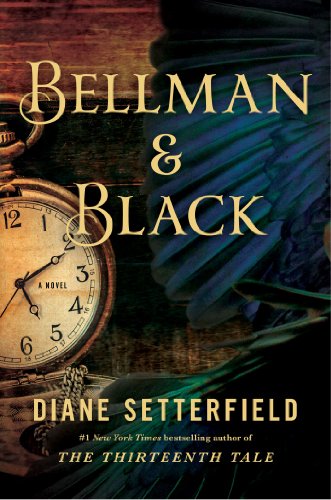 Publisher's Note:
ONE MOMENT IN TIME CAN HAUNT YOU FOREVER.

Caught up in a moment of boyhood competition, William Bellman recklessly aims his slingshot at a rook resting on a branch, killing the bird instantly. It is a small but cruel act, and is soon forgotten. By the time he is grown, with a wife and children of his own, William seems to have put the whole incident behind him. It was as if he never killed the thing at all. But rooks don't forget . . .

Years later, when a stranger mysteriously enters William's life, his fortunes begin to turn—and the terrible and unforeseen consequences of his past indiscretion take root. In a desperate bid to save the only precious thing he has left, he enters into a rather strange bargain, with an even stranger partner. Together, they found a decidedly macabre business.

And Bellman & Black is born.
This book was sent to Compass Book Ratings for review by Atria
Bellman & Black
by Diane Setterfield
Overall Review:
This enchanting book starts out with a tale of a group of boys out to play and paints a picture of an innocent childhood. A small act of cruelty gets blown out of proportion and is not soon forgotten. As the story progresses, we watch the main character grow up until he is a middle-aged man with his own family and a fast-growing business. Magic and ghosts seem to lurk in the background of the story--at times more prevalent than others.
I can't really think of any books to compare this one to, but the aspect of good versus evil reminded me a bit of The Chronicles of Narnia. There is a lesson to be learned in this story, but it isn't obvious immediately. Though not a title I would typically pick at random, it kept me enthralled chapter after chapter, and is an interesting, quick read. I found the book to be a bit confusing at times, because there were parts that left me "hanging". Although this helped add to the suspenseful side of it, as did the appearance of a strange figure that is mentioned many times in the book.
After reading this story, and seeing what several other people have said about it, I am left with the conclusion that many pieces of this book must be left up to the reader to decide the meaning. This is a story that is haunting, yet hopeful. At times it seems as if the characters are in dire straits and should give up on life, yet they carry on in the midst of their horrible troubles. Bellman & Black gives a good example of how sometimes our actions can be the cause of our destiny.
Content Analysis:
Profanity/Language: 1 religious exclamation; 4 mild obscenities.
Violence/Gore: A young boy kills a raven with a slingshot; a character drowns, but little detail is provided.
Sex/Nudity: A man and woman kiss several times; there are two instances where a man and woman get quite physical, but little detail is provided; sexual activity is implied once between an adult couple.
Mature Subject Matter:
Death of a child; death of a parent; sudden and serious illness.
Alcohol / Drug Use:
Adults drink alcohol frequently.
Reviewed By Lydia