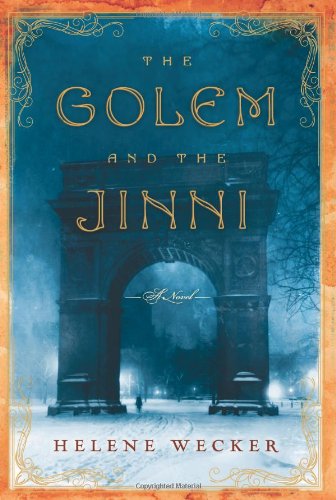 Publisher's Note:
In The Golem and the Jinni, a chance meeting between mythical beings takes readers on a dazzling journey through cultures in turn-of-the-century New York.
Chava is a golem, a creature made of clay, brought to life to by a disgraced rabbi who dabbles in dark Kabbalistic magic and dies at sea on the voyage from Poland. Chava is unmoored and adrift as the ship arrives in New York harbor in 1899.
Ahmad is a jinni, a being of fire born in the ancient Syrian desert, trapped in an old copper flask, and released in New York City, though still not entirely free
Ahmad and Chava become unlikely friends and soul mates with a mystical connection. Marvelous and compulsively readable, Helene Wecker's debut novel The Golem and the Jinni weaves strands of Yiddish and Middle Eastern literature, historical fiction and magical fable, into a wondrously inventive and unforgettable tale.
The Golem and the Jinni
by Helene Wecker
Overall Review:
The Golem and the Jinni by Helene Wecker is more historical fiction than fantasy. The setting of New York City, circa 1899, with its various ethnic locales is superbly crafted. Exquisitely written, the characters of Chava, the golem, and Ahmad, the jinni, are hauntingly real and ironically, achingly human. Wecker begins with far-flung characters and storylines and slowly, but artfully draws the weave tighter and tighter until the connections are complete. One of the novels great accomplishments is that there are no superfluous characters or sub-stories. Wrought with themes about responsibility, nature, freedom, choice, consequences, and religion, the novel is rich with food for thought or discussion material for a book club.
This was one book that was extremely difficult to assign an overall star rating. The writing and characterization were so brilliant and touching, yet the ending did not feel completely true to the characters Chava and Ahmad. I recommend reading it and deciding for yourself.
Content Analysis:
Profanity/Language: 23 religious exclamations; 3 mild obscenities; 3 derogatory names.
Violence/Gore: Report of a drowning; death in surgery, a few details; characters struggle; report of a character being robbed and beaten; characters punch, fight, tackle; a character is slapped; report of uprisings; a few reports of characters being beaten; report of deaths from illness and natural causes; scene in which characters struggle, fight, bash, etc. with intent to kill; character killed by bashing head in; character is stabbed and killed, mention of blood; a character strangles another character to death; explosions resulting in injuries; a character is killed; a brief scene in which a character is killed; threats to harm and kill.
Sex/Nudity: Report of characters having sex; characters have sex, brief scene with no explicit details; references including but not limited to mistresses, prostitutes, virgins, gigolo, brothel, menstruation, child out of wedlock; character propositions another character, but is rejected; passing comment suggesting that a character "lie" with another character; a character is pregnant out of wedlock; scene in which character dreams about having sex on wedding night with a few details; scene where a character goes to a room with a prostitute, no details; a character is groped; clothes are stripped for treatment, non-sexual; clothes are burnt leaving character naked, non-sexual; married characters have sex, a few details.
Mature Subject Matter:
Death, pregnancy out of wedlock, poverty, supernatural/dark arts, exorcism, ethics
Alcohol / Drug Use:
Adults smoke and drink; some adults are drunk. A character has a bottle of opium and it is obvious she has used it; characters smoke opium. Passing mention that a group of boys are smoking.
Reviewed By Cindy