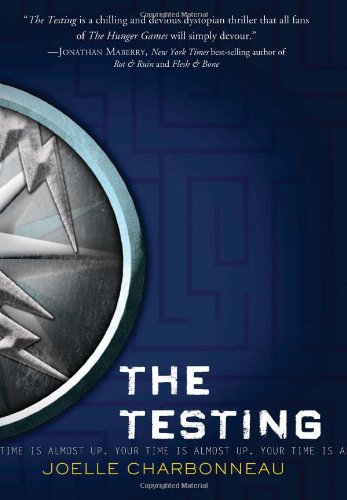 Publisher's Note:
It's graduation day for sixteen-year-old Malencia Vale, and the entire Five Lakes Colony (the former Great Lakes) is celebrating. All Cia can think about—hope for—is whether she'll be chosen for The Testing, a United Commonwealth program that selects the best and brightest new graduates to become possible leaders of the slowly revitalizing post-war civilization. When Cia is chosen, her father finally tells her about his own nightmarish half-memories of The Testing. Armed with his dire warnings ("Cia, trust no one"), she bravely heads off to Tosu City, far away from friends and family, perhaps forever. Danger, romance—and sheer terror—await.
The Testing
by Joelle Charbonneau
Overall Review:
The Testing by Joelle Charbonneau is a young adult dystopian novel set in North America after a world war that has inflicted catastrophic damage to its ecosystem, infrastructure, environment, and countries. Told in first person by protagonist Malenicia Vale, the novel follows the ruthless and secretive testing that students undergo to earn a coveted spot in the University. Unfortunately, this storyline is essentially a thinly disguised Hunger Games minus the love triangle and it is difficult to become enthralled in or enthused by a story that has already been told (and told remarkably well). The setting, the characters--both main and supporting, and the premise lack originality; the writing, while respectable, lacks flair. The nature of the story is action-driven so the book never drags and if a reader loves dystopian young adult fiction, they will probably still enjoy The Testing, despite its familiarity. Perhaps the next book in the series will differentiate this dystopian entry, but that remains to be seen.
Content Analysis:
Profanity/Language: 2 religious exclamations; 12 mild obscenities; 1 scatological word; 1 anatomical term.
Violence/Gore: Mention that a parent abused child (no details); report of a character considering suicide; report of dreams and dreams involving violent images such as explosions, death, dismemberment, etc.; character comes upon a scene of suicide (a few details); a character is impaled with a nail in eye resulting in death, mention of blood; character loses tip of finger; character is electrocuted (non-fatal); characters shoot at each other with guns and crossbow; explosion resulting in serious injury with detailed description of wound treatment; body found with eyes pecked out by birds; frightening scene in which animals give chase; shooting resulting in death of 3 and injury of 2; scene in which there is a massacre of a large number with a machine gun, mention of blood; graphic description of infected wound and treatment; scene where characters struggle with knives and sword and a character is killed by gunshot, mention of blood; character is injured by gunshot.
Similar to The Hunger Games, the human to human violence involves teenagers.
Sex/Nudity: Several instances of kissing.
Mature Subject Matter:
Death, poverty, ethics, suicide, ecological/environmental issues, politics, war, killing
Alcohol / Drug Use:
Characters, young adults and adults, drink alcohol with dinner and at celebrations; administration of drugs for medical and other reasons.
Reviewed By Cindy