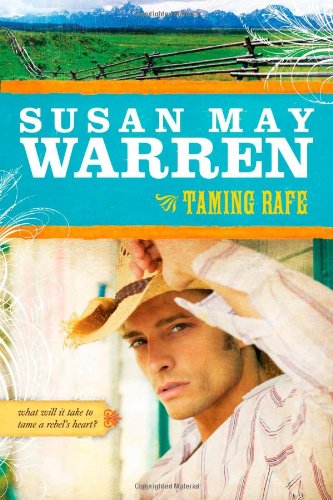 Publisher's Note:
Hotel heiress Katherine Breckenridge just wants to make a lasting difference in her world by running her late mother's charity foundation. But she fears she lacks the passion and courage to be as successful as her mother was—a fear that's realized when money from the foundation goes missing and Katherine's one shot to recover it is ruined by Rafe Noble. Two-time world champion bull rider Rafe Noble is at the top of his game when tragedy hits. Guilt stricken over the loss of his best friend, Rafe accidentally drives his truck into the lobby of the Breckenridge Hotel during Katherine's fund-raiser. With a broken knee, a ruined reputation, and the threat of several lawsuits, Rafe goes back to his family's ranch—the Silver Buckle—to recover. Desperate to save the foundation, Katherine heads to the Silver Buckle to talk Rafe into helping her raise the needed funds. But a few days under the bright Montana skies give her more than she bargained for, and Kat discovers there's more to both herself and Rafe Noble than she realized.
Taming Rafe
by Susan May Warren
Overall Review:
In the second book of the Noble Legacy Series, Taming Rafe, Susan May Warren tackles a lot of issues. Most of her characters have had at least a Christian upbringing and sometimes her use of Christian perspectives seems to focus more on preaching to unbelievers. However, for those who already have a belief in God, the characters and their interactions with deity seem normal and appropriate. In some parts of the story, the length of the sections discussing religious relations seems a bit too long.
Anyone having read other stories by Warren will find more of the same material here. Characters struggle to free themselves from difficult life situations and things turn out well in the end. It is exactly these happy endings that draw readers back for more. There are enough tragedies in real life, why not enjoy someone else's triumph for a while?
The appeal of the double romance in this book was well written. Although the book itself reads easily and stirs the emotions of the reader, it also has some serious issues to contemplate. The ending was satisfactory and a bit intense.
Content Analysis:
Profanity/Language: None
Violence/Gore: Character trampled by an animal; cars crashed into buildings; reports of domestic abuse in the past; characters fight and throw punches; character drags another; character reported to have attempted to kill another.
Sex/Nudity: Non-married characters kiss and embrace.
Mature Subject Matter:
Death of parent and friend, terminal illness, abuse, murder.
Alcohol / Drug Use:
Character drank Jack Daniels. Reports of characters being drunk. Characters consume beer and other liquor.
Reviewed By Susan