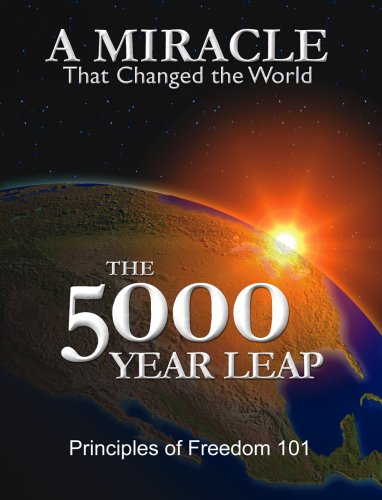 Publisher's Note:
This is the best-selling Original Authorized Edition regularly featured by Glenn Beck to Fox TV viewers as a Must Read!

The nation the Founders built is now in the throes of a political, economic, social, and spiritual crisis that has driven many to an almost frantic search for modern solutions. The truth is that the solutions have been available for a long time -- in the writings of our Founding Fathers -- carefully set forth in this timely book.

In The 5000 Year Leap: A Miracle That Changed the World, Discover the 28 Principles of Freedom our Founding Fathers said must be understood and perpetuated by every people who desire peace, prosperity, and freedom. Learn how adherence to these beliefs during the past 200 years has brought about more progress than was made in the previous 5000 years. These 28 Principles include The Genius of Natural Law, Virtuous and Moral Leaders, Equal Rights--Not Equal Things, and Avoiding the Burden of Debt.
The 5000 Year Leap: A Miracle that Changed the World
by W. Cleon Skousen
Overall Review:
Books about history are sometimes monotonous to read. Some are longwinded, filled with the author's prejudices and conclusions. Others are plain boring. The 5000 Year Leap: A Miracle that Change the World is none of these things.
Broken done into manageable chapters that thoroughly yet concisely illustrate the topics, the book reads quickly and is set up so well it could be used as a reference book. Just turn to the chapter you are interested in and read away. The writing is mainly connected passages taken from the founding fathers' letters and publications this give the reader a feeling that they are taking a class from George Washington, John Adams, Thomas Jefferson and many others.
Very interesting as well as enlightening, I highly recommend this book.
Content Analysis:
Profanity/Language: None
Violence/Gore: None
Sex/Nudity: None
Mature Subject Matter:
Although the book is not filled with innapporiate material for children the topics are rather deep and may be confusing to younger readers.
Alcohol / Drug Use:
None
Reviewed By Matthew