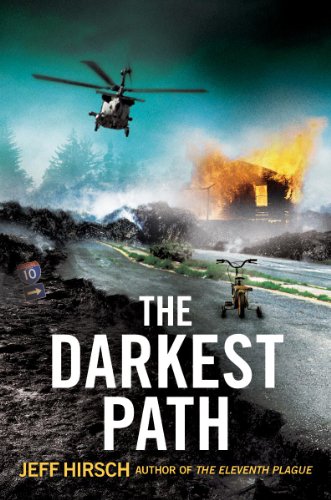 Publisher's Note:
USA TODAY bestselling author Jeff Hirsch once again creates a futuristic world with stunning, dramatic realism.

A civil war rages between the Glorious Path--a militant religion based on the teachings of a former US soldier--and what's left of the US government. Fifteen-year-old Callum Roe and his younger brother, James, were captured and forced to convert six years ago. Cal has been working in the Path's dog kennels, and is very close to becoming one of the Path's deadliest secret agents. Then Cal befriends a stray dog named Bear and kills a commander who wants to train him to be a vicious attack dog. This sends Cal and Bear on the run, and sets in motion a series of incredible events that will test Cal's loyalties and end in a fierce battle that the fate of the entire country rests on.
This book was sent to Compass Book Ratings for review by Scholastic
The Darkest Path
by Jeff Hirsch
Overall Review:
The Darkest Path is a war story that Jeff Hirsch managed to create with great detail while omitting the gore you might expect. The cause of conflict is based around religion which makes for some unforeseen events in the story. It also adds layers to characters that wouldn't otherwise be there, keeping those pages turning. Time after time you think the worst outcome is inevitable and when all hope is lost, the storyline takes an unexpected turn. The struggles and complications that the main character, Callum, has to deal with are more than any teenager should ever have to, but it's interesting to see how he handles them and how the experiences change him. If you enjoy dystopian or war novels, I highly recommend this book!
Content Analysis:
Profanity/Language: 8 religious exclamations; 8 mild obscenities; 2 scatological words.
Violence/Gore: Many (38) brief incidents including characters joking about hurting another; verbal threats; implied deaths; character threatened with gun; planning suicide bombing; second hand report of character getting arm hit with baseball bat; wound from dog fight; mention of characters getting killed by drones; brief descriptions of war activity; seeing a town after bombing; explosions that result in injuries and death; character intentionally hurts self; characters getting hit; administering stitches; character tased; shooting; hunting; town burning; characters shot resulting in injuries and death. Extended incidents including fighting, explosions and shooting during war.
Sex/Nudity: Brief incidents including characters cuddling; touching arm and leg; hand holding; kiss; hugging.
Mature Subject Matter:
War, starvation, murder, death.
Alcohol / Drug Use:
Adult characters smell of beer; second hand report of adults drinking wine; adults smoking cigarettes.
Reviewed By Jenny