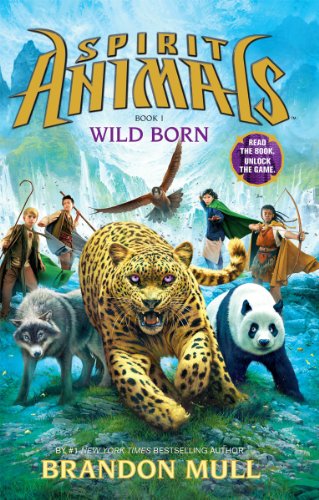 Publisher's Note:
#1 New York Times bestseller Brandon Mull launches Scholastic's brand-new multiplatform phenomenon.

Four children separated by vast distances all undergo the same ritual, watched by cloaked strangers. Four flashes of light erupt, and from them emerge the unmistakable shapes of incredible beasts - a wolf, a leopard, a panda, a falcon. Suddenly the paths of these children - and the world - have been changed forever.

Enter the world of Erdas, where every child who comes of age must discover if they have a spirit animal, a rare bond between human and beast that bestows great powers to both. A dark force has risen from distant and long-forgotten lands, and has begun an onslaught that will ravage the world. Now the fate of Erdas has fallen on the shoulders of four young strangers . . . and on you.

Part engrossing book series, part action role-playing game - discover your spirit animal and join the adventure in Fall 2013.
This book was sent to Compass Book Ratings for review by Scholastic
Spirit Animals Book 1: Wild Born
by Brandon Mull
Overall Review:
Along similar lines as The 39 Clues series, Scholastic is launching a new multiplatform series with such varied characters and online options that it is sure to delight everyone who picks up the books. Besides a series of books done by different authors, there is also an online game where readers can pick their own spirit animal and begin the adventure themselves. Starting off the first book is the powerhouse author Brandon Mull, who does an admirable job of introducing new characters and a new world, and getting the adventure rolling in a big way, all in a mere 201 pages. Faintly echoing cultures, animals and geography of our own world, Mull develops endearing characters of differing nationalities and personalities in such a way that every reader is sure to relate to at least one of them. The series itself promises to be a fun and exciting adventure, and the website provides an added opportunity to be involved in the story. After all, who wouldn't love to have their own spirit animal?
Content Analysis:
Profanity/Language: None
Violence/Gore: Characters wrestle; non-detailed scenes of fighting and battle; burning city and people killed; a character is shot with an arrow; a character is attacked and left unconscious with a broken arm; one scene of animal experimentation/cruelty; an animal chases characters and is shot down; threats of slavery or death; a martial arts demonstration just for marks; battle with animals and people: non-detailed scenes of characters cracked in the skull, clubbed, charged, trampled, crushed, thrown off a cliff. A character is stabbed in the back and dies. Animals are struck by lightning and killed. Somewhat frightening scene of an animal rearing up in a lightning storm.
Sex/Nudity: None
Mature Subject Matter:
War, Death.
Alcohol / Drug Use:
None
Reviewed By Kristen