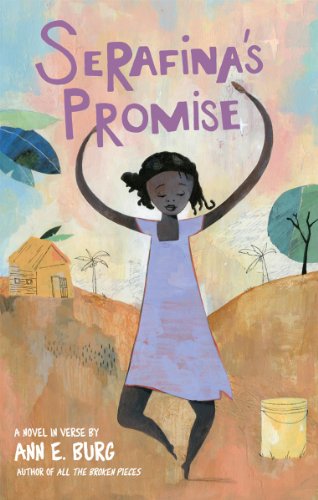 Publisher's Note:
A luminous novel in verse from the author of the Jefferson Cup award winner ALL THE BROKEN PIECES.


Serafina has
a secret dream.

She wants to go to school
and become a doctor
with her best friend, Julie Marie.

But in their rural village
outside Port-au-Prince, Haiti,
many obstacles
stand in Serafina's way--
little money,
never-ending chores,
and Manman's worries.

More powerful even
than all of these
are the heavy rains
and the shaking earth
that test Serafina's resolve
in ways she never dreamed.

At once heartbreaking and hopeful,
this exquisitely crafted story
will leave a lasting impression
on your heart.
This book was sent to Compass Book Ratings for review by Scholastic
Serafina's Promise
by Ann E. Burg
Overall Review:
SERAFINA'S PROMISE by Ann E. Burg is a three- part story that is surprisingly beautiful, hauntingly tragic, but also enduringly hopeful all tied together by well- crafted free verse. The setting is in a rural area outside Port-au-Prince, Haiti, in contemporary times. Serafina's family struggles every day to survive with each member contributing their part to make it through. At her young age Serafina has faced poverty, death of a family member, terrible natural disasters; yet, at the same time, she has been inspired by a woman doctor to strive for a goal seemingly unattainable.
This is definitely a girl's book with Serafina as the main character and two girls as her best friends. It is amazing to see how each girl's life is shaped differently by forces outside her control. The novel has enough action that this reader forgot it was poetry and had to keep reading well past midnight to see if Serafina and her family managed to survive each catastrophe. Readers will love the grandmother with all her pithy statements—much like their own grandmothers. The novel reads fast because it is poetry. However, I found myself reading Part Three with more care because the word pictures are so alive and vivid.
To sum it up, the time spent reading this book is well worth it for both young girls and adults. It addresses universal themes of family, human suffering, and the strength of the human spirit all wrapped within striking and startling word pictures.
Ms. Burg has written poetry and stories since she was a little girl. Throughout SERAFINA'S PROMISE, the reader will sense that she loves the feel of the words as she combines them. This is especially true as she creates the imagery and the verbal rhythm in this free verse novel. She comes well recommended from Booklist, ALA, among others.
Content Analysis:
Profanity: None
Violence/Gore: A few incidents involving one implied murder of a family member by rebel militants and two natural disasters which cause many deaths but no graphic details.
Sex/Nudity: None
Mature Subject Matter:
Death: Child, family member, friend; Family Crisis--Natural disasters
Alcohol / Drug Use:
None
Reviewed By Marilyn