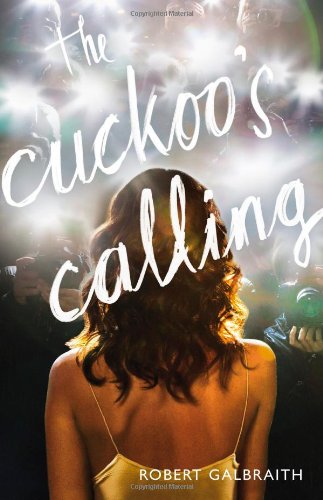 Publisher's Note:
The Cuckoo's Calling is a 2013 crime fiction novel by J. K. Rowling, published under the pseudonym Robert Galbraith.

A brilliant mystery in a classic vein: Detective Cormoran Strike investigates a supermodel's suicide.
After losing his leg to a land mine in Afghanistan, Cormoran Strike is barely scraping by as a private investigator. Strike is down to one client, and creditors are calling. He has also just broken up with his longtime girlfriend and is living in his office.

Then John Bristow walks through his door with an amazing story: His sister, thelegendary supermodel Lula Landry, known to her friends as the Cuckoo, famously fell to her death a few months earlier. The police ruled it a suicide, but John refuses to believe that. The case plunges Strike into the world of multimillionaire beauties, rock-star boyfriends, and desperate designers, and it introduces him to every variety of pleasure, enticement, seduction, and delusion known to man.

You may think you know detectives, but you've never met one quite like Strike. You may think you know about the wealthy and famous, but you've never seen them under an investigation like this.
The Cuckoo's Calling
by Robert Galbraith
Overall Review:
When the news came out that J.K. Rowling had written another novel for adults, but this time under a pseudonym, I was immediately curious and wanted to read it. I read The Casual Vacancy and was not very impressed. Bravo, Ms. Rowling for trying your hand at a mystery this time! She wrote this book in much the same style as her previous novel, but with plenty of mysterious circumstances thrown in. I was kept interested throughout the whole story. We all knew she had it in her, what with Harry Potter being such a success. Apparently she just had to find her niche once again.
If you are interested in mysteries that surround murders, I would encourage you to pick this book up and give it a try. Most likely you won't be disappointed!
Content Analysis:
Language/Profanity: 4 Religious exclamations; 20 Mild obscenities; 5 Derogatory names; 48 F-Word derivatives.
Violence/Gore: A character falls from a window to death; a death is suspected to have either been murder or suicide; an adult slits their wrists in an attempt at taking their life.
Sex/Nudity: Cheating on a spouse is suspected and talked of three times; a woman is referred to as "sexy"; prostitution is mentioned, but not expounded on; several descriptions of women's breast as seen through clothing or when a character bends over; allusion to a character possibly not wearing underpants; descriptsion of sexual positions & acts; woman talks about touching a man's leg/fondling private areas through clothing.
Mature Subject Matter:
Death, suicide.
Alcohol / Drug Use:
Adults drink heavily on several occasions; adults smoke; drugs are mentioned to be used.
Reviewed By Lydia