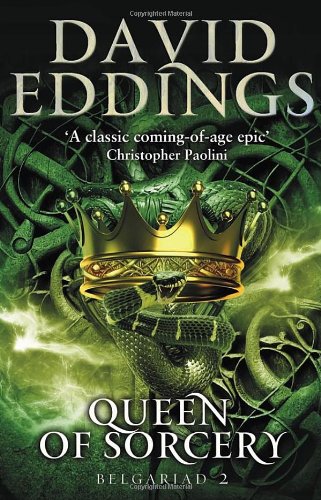 Publisher's Note:
BOOK 2 OF THE BELGARIAD, the worldwide bestselling fantasy series by master storyteller David Eddings. Discover the epic story that inspired thousands - from Raymond Feist's The Riftwar Cycle series to George R. R. Martin's A Game of Thrones.

The Accursed One is not dead...

He only sleeps...

The evil God Torak covets dominion over all men. If the stolen Orb of Aldur reaches him, he will surely gain what he desires.

Garion travels through strange lands with master sorcerers Belgarath and Polgara in frantic pursuit of the Orb. But as his own powers grow, Garion starts to realize that he too may have a part to play - a part he is not sure he wants...
Queen of Sorcery
by David Eddings
Overall Review:
Queen of Sorcery is the second book of David Eddings series, The Belgariad. Having introduced the characters in the first installment, Eddings takes the reader on a non-stop adventure. Filled with magic, unforgettable characters, and fantastic locations, the story is a joy to read.
Eddings group of characters are pulled together on an epic quest to save the world. Each has individual talents and skills that make them almost all supernatural, but they also have a depth built around their backstory that is quite fulfilling to the reader. This is not a rehashing of a common literary vehicle found in the genre; it has a uniqueness to it based on the depth and creativity of its characters.
I thoroughly enjoy reading the adventures of Garion and I think you will too.
Content Analysis:
Profanity/Language: 4 derogatory names.
Violence/Gore: Several verbal threats; several 2nd hand reports of violence involving marauding bandits; several references to slave traders and the conditions of the slave ships; several non-life threatening injuries including bruises, cuts, and broken bones; characters use poison to kill; group of characters kills individual by beating to death another character; characters engage in several medieval style battles, some end in non-detailed death, some are gruesome in detail with blood and gore; character is killed by poisonous slugs, death involves painful seizures; character uses magic similar to a lightning bolt to kill another character instantly; character uses magic to burn another character to death, graphic in nature; one extended scene that has intense violence where characters are vaporized, shredded and mauled by supernatural bear creature, and sliced by swords and spears.
Sex/Nudity: Two teenage characters flirt; teenage characters interact while bathing, non-sexual in nature but embarrassing to boy and involved non-descriptive nudity; character is very sensual in nature and uses her "charms" as a spy, implied sexual activity and innuendo; a culture lives in a very hot jungle climate and the women wear see-through, light weight clothes, essentially naked, non-descriptive; same culture has eunuchs as slaves; character is worshipped as a goddess and takes fictitious drugs that make her very lustful, several innuendos and implied sexual activities, non-descriptive.
Mature Subject Matter:
Death of family, death, war, serfdom, slavery, poison, politics, sensuality, seduction, torture.
Alcohol / Drug Use:
Many instances of characters drinking ale to the point of intoxication; several fictitious drugs are used that have many effects ranging from lethargy to hyper-sexuality.
Reviewed By Matthew