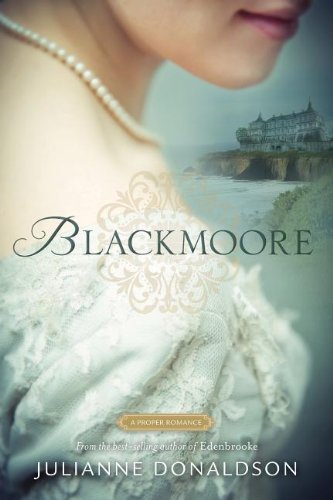 Publisher's Note:
At eighteen, Kate Worthington knows she should be getting serious about marriage, but her restless heart won t let her settle down. To escape her mother s meddlesome influence, she dreams of traveling with her spinster aunt to exotic India. But when the opportunity arises, Kate finds herself making a bargain with her mother: she will be allowed to go only if she spends a season at the family s wealthy estate, Blackmoore, where she must secure and reject three marriage proposals. Enlisting the help of her dearest childhood friend, Henry Delafield, Kate sets out to collect her proposals so she can be on her way. But Henry s decision to help threatens to destroy both of their dreams in ways they could never imagine. Set in Northern England in 1820, Blackmoore is a regency romance that tells the story of a young woman struggling to learn how to listen to her heart. With hints of Jane Austen and the Bronte sisters, Blackmoore is a page-turning tale of romance, intrigue, and devotion.
This book was sent to Compass Book Ratings for review by Shadow Mountain
Blackmoore
by Julianne Donaldson
Overall Review:
Beloved Regency author Julianne Donaldson returns with another beautiful romance in Blackmoore. As an admirer of Donaldson's work, I was anxious to see if Blackmoore could meet the high standard set by its award-winning predecessor, Edenbrooke. Happily, Blackmoore is exquisite in dialogue and detail! Donaldson mixes notable characters, breathtaking settings, and a tender romance to create a remarkable page-turner.
Donaldson has a knack for creating unforgettable protagonists. Adventurous and kind-hearted, Kate struggles against her self-serving mother. Though she is allowed to travel to her friends' estate, the knowledge that she can never be with the man she loves haunts Kate. As the tale unfolds, readers will be taken on a journey that will tug on heartstrings. (I admit to being an emotional mess while reading!) The romantic tension between the story's two lovebirds made every scene memorable. Fans of romance should read this book!
Content Analysis:
Profanity/Language: None
Violence/Gore: A bag of kittens is thrown into the river to drown; a character recalls seeing an animal caught in a trap
Sex/Nudity: A few scenes of passionate kissing with touching and caressing; a man is reported to be swimming in the nude; a few sexual references are made.
Mature Subject Matter:
Sacrifice, family relationships
Alcohol / Drug Use:
A character smokes a pipe.
Reviewed By Rachel