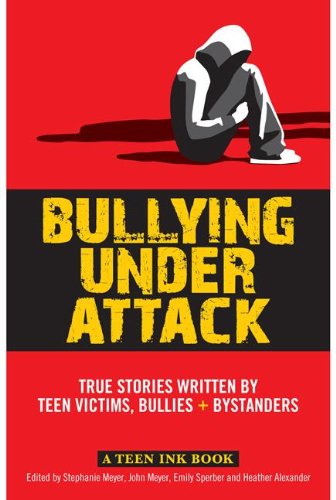 Publisher's Note:
The Victim:

"I was the girl who got called fat every single day. The girl who camouflaged her pain by laughing really hard and talking too loud, drowning out the demeaning comments. The girl fighting an internal battle to get up, get ready, and go to school every morning…"

—Elizabeth Ditty

The Bully:
"…being a bully doesn't save me from other bullies. I used to think that, somehow, tormenting others would grant me immunity from being tormented. It didn't. Because being a bully doesn't make you scary; it makes you worthless."

—Michael Ortiz

The Bystander:
"Sometimes changing a bully is difficult and even impossible. But if you don't try, those who are bullied will never know how much you care, and those who bully will continue to think their actions are acceptable. You can choose to remain a silent bystander, or you can take a stand to defend others. It's up to you."

—Bridgette Rainey
This book was sent to Compass Book Ratings for review by Teen Ink
Bullying Under Attack
by Stephanie H. Meyer, John Meyer, Emily Sperber, Heather Alexander
Overall Review:
Wow. What an incredibly heart-wrenching book. Bullying Under Attack not only addresses the issue of bullying from the perspective of those receiving the abuse, but also those doing it. In addition, the bystanders who did and did not have the courage to help or chose to add to the problem by joining in the "fun" share their stories as well. One of the most interesting things about the book is that it pretty much has something for everyone. It's not delivered in lecture form, as many non-fiction books about bullying are; you get to read the true stories of those who have lived it. This book has a high language content rating, but it is due to many victims mentioning the names they were called. Don't, however, think this is a depressing book. While it is difficult to get through at times, it's also enlightening and empowering. The incredibly brave teenagers who share their stories are amazing and will be a life-changing read for many and I highly recommend top-notch book to everyone ages 14+.
Content Analysis:
Profanity/Language: 3 religious exclamations; 9 mild obscenities; 74 derogatory names; 1 scatological word; 3 anatomical terms; 2 offensive hand gestures; 1 f-word.
Violence/Gore: Many (55) brief incidents including two stories told about imagining ripping apart a body; individuals considering or might consider suicide; verbal threats; individuals telling others to commit suicide; second hand report of individuals committing suicide; individuals shoved, pushed down stairs, hit, kicked, beat and tripped; reference to story of girl in barrel of nails; thinking about the holocaust; mention of school shootings having occurred; individual mentions cutting herself; individual tried to strangle another; talking about vampires; mention of animals hunting each other; property vandalized.
Sex/Nudity: Kissing; girl's swimsuit slipped, revealing top; references to sexual orientation; mention of polygamy; innuendo; individual smacks another's butt.
Mature Subject Matter:
Verbal and physical abuse; Holocaust; Death from illness; Depression; Suicide; Cutting; Sexual harassment; Racism; Abuse due to religion; Abusive parents; Anorexia and other eating disorders.
Alcohol / Drug Use:
Individual taking anti-depressants; insinuation of individual considering overdosing; individual refers to stories of people using drugs.
Reviewed By Jenny